It is easy to shake your bum to Shakira's song "Waka waka" and to get a feeling of affinity, global equality and hope for mankind. This message, it seems, has not yet reached the former German colony of South-West Africa, nowadays called Namibia – an internationally low-profile country from where very little news reach global consciousness.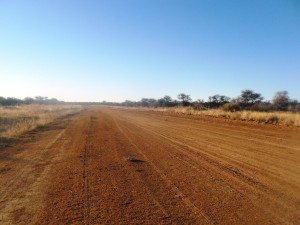 According to guidebooks and people I've spoken to prior to my departure, Namibia is supposed to be a land so breathtakingly beautiful, peaceful and safe that not falling in love with it is virtually impossible. What I see is rich (mostly European originated) people restricted to live  in houses with their guard dogs barricaded behind 3 meter-high brick walls and electric fences, who do not dare walk on the street past sunset and drive around in enormous jeeps. Call me naïve (which I most definitely still am), but where is the safety in that? I also see people belonging to ethnic groups whose history in the area date back to hundreds and thousands of years, living in other suburbs in smaller houses without fences. In those suburbs people walk around on the streets, they hang out in cafes and bars. A young blond woman as myself, however, is ill-advised to visit this place alone, even during day-light. There, I hear music, people talking and the motor sounds of the swag white jeep I'm traveling in. Walking around in the rich suburbs I hear nothing, except for dogs barking as I pass the spiky iron gates they are guarding. Yes, the nature is amazing – but this inequality is ugly.
I am a student at the School of Public Administration at Gothenburg University and I am going spend 10 weeks in Namibia writing my Master's thesis about a municipal partnership project between Omaruru and Vanersborg. In my blog I am going to write my honest impressions about everyday life here in the small rural town I live in and other places I visit. Here are some country facts:
Size: Twice the size of Sweden
Population: 2 million people
Languages: Officially English, in practice Afrikaans and local languages Oshivambo, Oshiherero, Damara and others.
Political system: Democracy since independency from South Africa in 1990. The same party S.W.A.P.O. has been in power since. The first president, Sam Nujoma, was in power for two electoral periods. The second president, Hifikepunye Pohamba, is on his second term now. The next presidential and national assembly elections will be held in 2014.
Deserts: two big ones, Kalahari and the coastal Namib desert, whose climate resemble that of the Atacama desert in Chile.
Now the hostel owner is urging me to close to computer, so with this picture of an aeroplane landing strip I say good night for now!
//Tiina Puurula
Warning: Undefined array key "img" in /customers/f/c/6/utblick.org/httpd.www/wp-content/plugins/molongui-authorship/views/author-box/parts/html-avatar.php on line 4
Warning: Undefined array key "type" in /customers/f/c/6/utblick.org/httpd.www/wp-content/plugins/molongui-authorship/views/author-box/parts/html-name.php on line 17 Warning: Undefined array key "type" in /customers/f/c/6/utblick.org/httpd.www/wp-content/plugins/molongui-authorship/views/author-box/parts/html-name.php on line 19 Warning: Undefined array key "type" in /customers/f/c/6/utblick.org/httpd.www/wp-content/plugins/molongui-authorship/views/author-box/parts/html-name.php on line 21 Warning: Undefined array key "archive" in /customers/f/c/6/utblick.org/httpd.www/wp-content/plugins/molongui-authorship/views/author-box/parts/html-name.php on line 37 Warning: Undefined array key "name" in /customers/f/c/6/utblick.org/httpd.www/wp-content/plugins/molongui-authorship/views/author-box/parts/html-name.php on line 41
Warning: Undefined array key "bio" in /customers/f/c/6/utblick.org/httpd.www/wp-content/plugins/molongui-authorship/views/author-box/parts/html-bio.php on line 8