Although Brussels represents for many the political capital of Europe, it is rarely being praised as an attractive travel destination. The city's most famous icons, the Atomium and Manneken Pis, have probably contributed to this view. While the former is located pretty far out and therefore is not as enchantingly omnipresent as Paris' Eiffel Tower, Manneken Pis has notoriously disappointed Brussels visitors, who all have to find out at some point that this tiny statue is really it – really! However, Brussels is actually very worth a visit and appeals through its venturous architectural combination of Belgian small-town charm and postmodern European megalomania.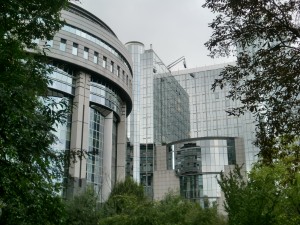 The European Quarter, where EU institutions and all kinds of affiliated organizations, representations and lobbying bodies gather, represents a world in itself. Above all, this world consists of colossal buildings and monumental steel constructions, often shaped in hardly any conventional way and covered in reflective glass facades. 'Beautiful' is probably not the most adequate word to describe this area of Brussels, and critics argue that the impersonal office blocks involuntarily reflect the distance of the EU to the European people, but one cannot deny being impressed the first time walking around the European Parliament and similar fortresses in the quarter. Besides that, the European Quarter also features a few remaining Art Nouveau houses and inviting green areas. The Cinquantenaire park (Dutch: Jubelpark) perfectly exemplifies how convenient this can be, when in the middle of the day hordes of office workers use its long paths for a run in their lunch breaks. At the same time, the park represents a noteworthy tourist attraction, as its center is dominated by a huge triumphal arch which also hosts Brussels's army museum. As the admission is free, it is a great place to enjoy the view over the city by climbing the stairs inside the museum up to its roof top.
From Monday through Friday, the European Quarter is occupied by so-called Eurocrats and other business people that fill the streets with the clacking sound of their heels and especially the engines of their expensive business cars, creating massive smog problems throughout the year. In the morning of every European summit meeting, this recurrent traffic jam reaches its monthly peak point. The VIPs of European politics are then escorted by the police from their hotel to the European Council, which further prolongs the waiting time for everybody who had taken the rather unwise decision to come by car.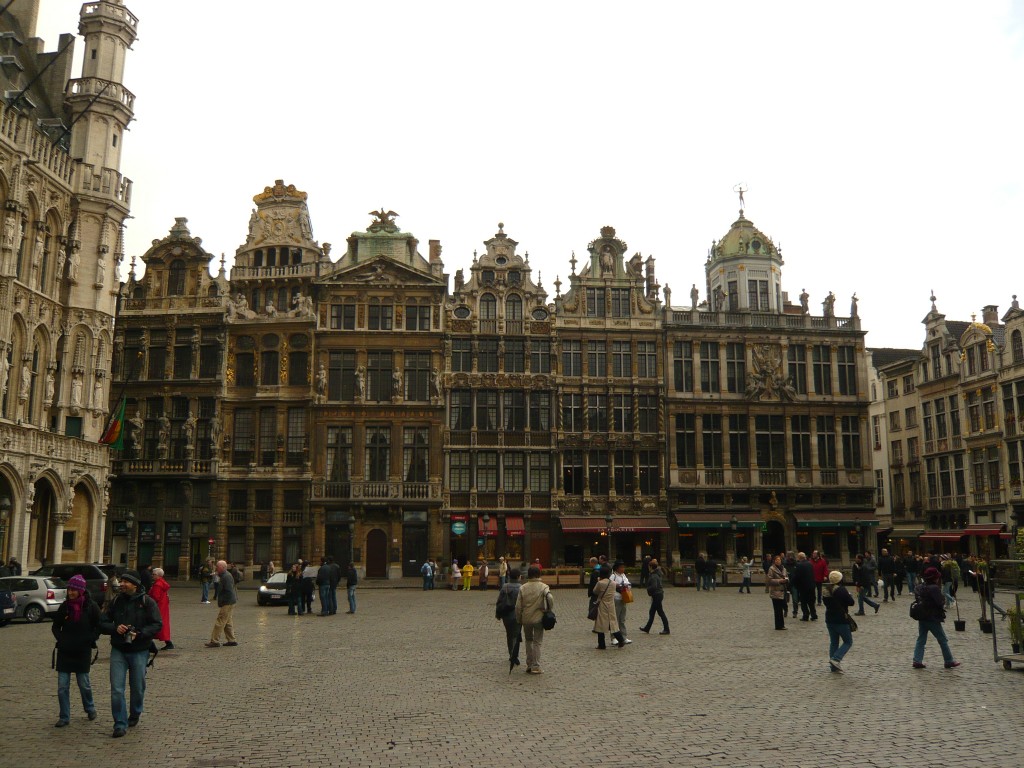 When you are used to this hustle and bustle during weekdays, the European Quarter can appear like a ghost town on weekends, as this is the only time when its streets are mostly filled with silence. But take a walk towards the lower part of the city where the old town is located, and the closer you get, the more you feel exposed to the vibrant life one would expect in a capital like Brussels. Besides, you will come by many charming large-sized buildings from other epochs.
First, there is the Royal Square where you will find the Royal Palace, the adjacent Parc de Bruxelles, and what is commonly known as the 'Mont des Arts', a concentration of several of the city's major museums, overlooking the lower town. Take the big steps down, cross the museum garden and continue your way towards the Royal Galleries, an elegant shopping mall modeled on the famous Galleria Vittorio Emanuele II in Milan. Their shops clearly cater to a different population stratum than students and low budget travelers, but these galleries take window-shopping to a whole new level and will leave you amazed by their timeless beauty, even without having spent a single euro. Exit the galleries into the ancient "Rue des Bouchers" with its countless seafood restaurants, and stroll through lovely narrow alleys in the direction of the heart of Brussels: Grand-Place (Dutch: Grote Markt). By entering the square from these tiny streets, you will probably experience a real "WOW" moment when finally catching sight of it. Surrounded by medieval buildings, this incredibly picturesque center of the old town almost feels like a journey through time. In any case, it definitely has some kind of magic to it. Obviously, this also makes it the main tourist area of Brussels, with prices steadily increasing the closer you get to it. Luckily, this also works the other way around, so you might want to buy your souvenirs in a safe distance from the Grand-Place.
If these striking contrasts have not fully convinced you yet, allow me to play my final joker, for all those among you who are as passionate about food as I am. After all, is there any better way of discovering foreign places than tasting mouth-watering local treats and specialties, which will always remind us of the place where we have tried them first?!
First of all, there is the phenomenon of French fries, which Belgians in fact claim to be a Belgian invention. At least the country definitely proves the point that fries can be much more than those floppy sticks that are being sold at McDonald's under the same name. Although Brussels even has fancy restaurants which serve for example the famous Belgian dish "moules-frites" (mussels and fries), I can also warmly recommend the budget-friendlier option: fries stalls in the street. The best ones are on Place Flagey (Frit'Flagey) and on Place Jourdan (Maison Antoine). The queues can be surprisingly long, but waiting in front of Antoine's will never leave you disappointed in the end: his fries are always deliciously crunchy and come with a huge variety of tasty sauces.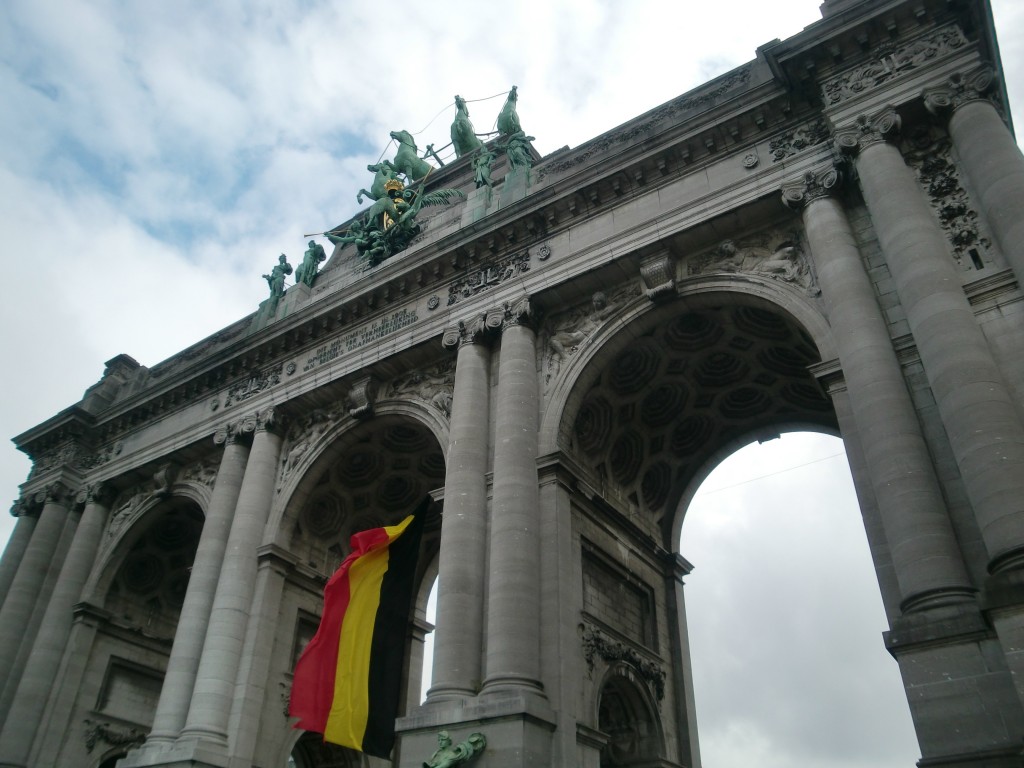 Now after having invested so much of your precious time in Antoine's waiting line, you might feel a little dehydrated. In that case, just take your bag of fries and head to one of the closest bars. Otherwise, pretend to feel dehydrated and go there nonetheless. There is absolutely no need to feel thirsty to enjoy a good Belgian beer, which is always a real delight! Luckily, there is such a wide variety that it is almost impossible to get tired of Belgian beers. Leffe, Hoegaarden, Duvel, Kriek, Gueuze, Chimay, etc.: all of them Belgian, all of them distinct.
Last but not least, two absolute to-dos for anyone with a sweet tooth like me: invest in Belgian chocolates (quite expensive but totally worth the price) and savor a Belgian waffle with as much fruits, chocolate sauce and cream as you can get (impossible to eat but totally worth the disaster). After these experiences you will realize that even if Brussels might not be the most attractive city in Europe (yet), it definitely has the potential to bring you ultimate happiness.
Text & photo: Katrin Owesen
Warning: Undefined array key "img" in /customers/f/c/6/utblick.org/httpd.www/wp-content/plugins/molongui-authorship/views/author-box/parts/html-avatar.php on line 4
Warning: Undefined array key "type" in /customers/f/c/6/utblick.org/httpd.www/wp-content/plugins/molongui-authorship/views/author-box/parts/html-name.php on line 17 Warning: Undefined array key "type" in /customers/f/c/6/utblick.org/httpd.www/wp-content/plugins/molongui-authorship/views/author-box/parts/html-name.php on line 19 Warning: Undefined array key "type" in /customers/f/c/6/utblick.org/httpd.www/wp-content/plugins/molongui-authorship/views/author-box/parts/html-name.php on line 21 Warning: Undefined array key "archive" in /customers/f/c/6/utblick.org/httpd.www/wp-content/plugins/molongui-authorship/views/author-box/parts/html-name.php on line 37 Warning: Undefined array key "name" in /customers/f/c/6/utblick.org/httpd.www/wp-content/plugins/molongui-authorship/views/author-box/parts/html-name.php on line 41
Warning: Undefined array key "bio" in /customers/f/c/6/utblick.org/httpd.www/wp-content/plugins/molongui-authorship/views/author-box/parts/html-bio.php on line 8