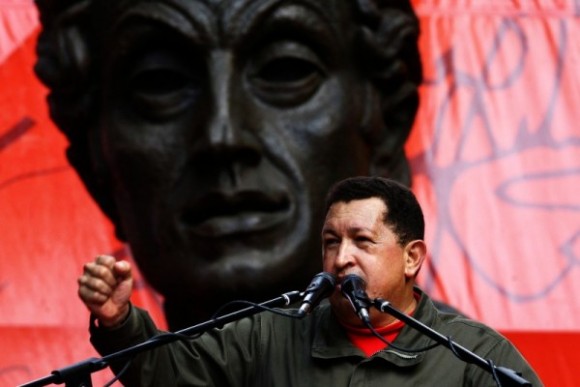 In the preceding days after the death of Venezuelan president Hugo Chávez the question that loom over the Latin American continent is not what kind of impact the fiery combatant has had for the recurrence of the Left in South America, but what will happen now when he is gone.
In rebutting the negative comments of his legacy, it is quite easy to point to the positive heritage of Chávez – the incorporation of the marginalized peoples into Latin American politics, the promotion of continental unity, and the deliberate effort of getting primary education and health-services where it is most needed – the void in both positive and negative aspects that he leaves behind may be the most significant part of that heritage.
The corruption that characterized Chávez's reign could fairly easily be sustained and dimmed by tirelessness – both of Chávez's energy and the gas and oil resources below his feet. Since no one of Venezuela's neighboring countries have the same means for refusing to reform their political systems – new accusations of corruption within the Brazilian, Argentinian and Ecuadorian governments have recently risen to surface – the death of Chávez will have a profound effect where the depicted heroism of Chávez has served as a pillar of light. Bolivia, Cuba and Nicaragua, but also the social-democratic governments of Uruguay, Argentina and Brazil have benefitted from trade-deals made with a Chávez determined to promote Latin American unity, hoping to realize the dream of Simón Bolívar. If power returns to the opposition after the election, especially Cuba will have serious reasons of concern.
Another part of the continent where reason for concern is due is in Venezuela's neighboring Colombian jungle, where a revived peace-process between FARC and the Colombian government is credited in large part to Chávez's diplomacy. With him gone from the negotiations, it is uncertain if the process will come to a total stand-still, or be able to continue without him. As Piedad Córdoba, another leading figure in the process, said in a recent interview in Omvärlden:
"He has an enormous amount of trust within the FARC movement. Without him much of what is happening now [in Colombia] would be impossible" (ed. translation).
We need not to neglect the urgent need for reforming the democratic institutions of Venezuela and elsewhere, but reformation is best provided by unilateral unity and influence between the members of that unity, not by regression to the ways of old. The void left behind by Chávez in Latin American politics could result in furthering the ideals with which he aspired to consolidate Latin America. The former Brazilian president Luiz Inácio Lula da Silva claims it to be the part of his heritage that will play the biggest role in the future:
"The multilateral institutions Mr. Chávez helped create will also help ensure the consecration of South American unity. He will no longer be present at South American summit meetings, but his ideals, and the Venezuelan government, will continue to be represented. Democratic camaraderie among the leaders of Latin America and the Caribbean is the best guarantee of the political, economic, social and cultural unity that our peoples want and need."
After Chavez's death, the primary challenge for Latin America remains the same. But realizing what interests unifies the continent as a whole is definitely aided by his legacy, not the other way around.

Text: Josef Svantesson
Photo: Bernardo Londoy

Further reading:
Piedad Córdoba and the peace-process in Colombia: http://www.sida.se/OmVarlden/Intervju/Piedad-Cordoba/
Lula in New York Times: http://www.nytimes.com/2013/03/07/opinion/latin-america-after-chavez.html?smid=fb-share&_r=0
Foreign Policy's review of Chavez´s economic heritage: http://www.foreignpolicy.com/articles/2013/03/11/hugo_chavez_economic_legacy_venezuela
Maria Clara Medina – researcher in Latin American Studies at University of Gothenburg, on Chávez: http://debatt.svt.se/2013/03/06/chavez-socialistiska-arv-kommer-leva-vidare-i-hela-sydamerika/
Warning: Undefined array key "img" in /customers/f/c/6/utblick.org/httpd.www/wp-content/plugins/molongui-authorship/views/author-box/parts/html-avatar.php on line 4
Warning: Undefined array key "type" in /customers/f/c/6/utblick.org/httpd.www/wp-content/plugins/molongui-authorship/views/author-box/parts/html-name.php on line 17 Warning: Undefined array key "type" in /customers/f/c/6/utblick.org/httpd.www/wp-content/plugins/molongui-authorship/views/author-box/parts/html-name.php on line 19 Warning: Undefined array key "type" in /customers/f/c/6/utblick.org/httpd.www/wp-content/plugins/molongui-authorship/views/author-box/parts/html-name.php on line 21 Warning: Undefined array key "archive" in /customers/f/c/6/utblick.org/httpd.www/wp-content/plugins/molongui-authorship/views/author-box/parts/html-name.php on line 37 Warning: Undefined array key "name" in /customers/f/c/6/utblick.org/httpd.www/wp-content/plugins/molongui-authorship/views/author-box/parts/html-name.php on line 41
Warning: Undefined array key "bio" in /customers/f/c/6/utblick.org/httpd.www/wp-content/plugins/molongui-authorship/views/author-box/parts/html-bio.php on line 8