Ah Bangkok, my City of Angels!
Even before ever having visited Thailand's capital city, you can marvel at the fact that its full name is included in the Guinness Book of World Records as the world's longest place name. A glorious string of archaic descriptions, it literally means "The city of angels; the residence of the emerald Buddha; the great impregnable city; steadfast and thriving in its gracefulness; the grand capital of the world, abundant with the nine noble gems; a pleasant, happy city; the city which abounds with the enormous Royal Palace, that resembles the heavenly abode where the reincarnated god reigns; erected by Vishnu at Indra's behest."
If the name feels a bit overwhelming, it's nothing compared to the sprawling, chaotic, wonderful urban jungle that meets the eye when you arrive. I use the word jungle intentionally, because the thing that struck me instantly when I first came to Bangkok, was how tropical and alive the place is. Yes: it is humid, messy, polluted and the traffic is madness. But everywhere you look, lush green foliage creeps between the buildings; moss softly covers roofs and gutters; and the grand Chao Phraya river courses like a life-vein through Bangkok, providing it with a steady heartbeat.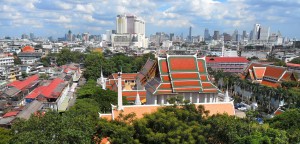 Due to its vast, labyrinthine-like qualities it can be difficult to pinpoint a strict center in this city of 10 million people, with its flashing neon commercials, fine Thai architecture, street food sizzling in roadside stalls, friendly monks in orange robes and crowded markets. If I were to guide you, however, I would first take you to the main commercial area around Siam Square. It's where the two most important BTS Skytrain lines intersect, creating a puzzle of concrete overpasses, underneath which the busy Rama I road teems with taxi's, motorbikes, buses and tuktuks.
There's something to say both in favor and against most of these modes of transportation: the Skytrain is fast, reliable, very clean and air-conditioned (a fact you will rapidly start to appreciate in Bangkok). On the downside, it is relatively expensive and covers only a limited number of stops. Taxis are comfortable, quite cheap compared to other countries and cover every single corner of the metropolis. They do however have to face the insane traffic jams that can occur around rush hours, while the fare meter keeps ticking… Local buses deal with the same traffic situation, but they are dirt cheap, quite rickety and thus offer a more adventurous way of travelling through town. However, their network is seemingly incomprehensible and includes a bewildering amount of bus lines. If you're feeling reckless and free, I can highly recommend hopping on the back of a motorbike taxi. Just grab hold of a driver, negotiate a price with a mischievous smile on your face and prepare for the ultimate, stomach-churning kick. Helmets are obligatory, but many people don't seem to bother – racing through narrow gaps in traffic jams, avoiding pedestrians by seconds, and breaking both laws of nature and traffic costs you only a few coins for short distances. The one mode of transport I would not recommend, is the well-known tuktuk. As a foreigner, you will invariably end up paying a fortune for a ride in these loud, noisy three-wheelers that offer next to nothing in the comfort or scenery department.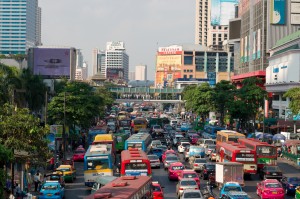 No matter how you get to Siam Square's hustle and bustle, if you're into shopping, you should wander around one of the many malls the area has to offer. They range from high class, exclusive Paragon and Central World Plaza, to the huge and more local-oriented Pratunam and Platinum – a Swedish friend used to go there with two empty garbage bags which would be stuffed by the time she got out. You have been warned. MBK is the place to go if you're more into gadgets and electronics, with the top floors offering stalls where you can order illegal copies of entire seasons of your favorite tv series. Return an hour later, and the dvds will be waiting for you.
If you feel tired of the never ending, wordly capitalist craziness, you will be delighted to discover the small Erawan shrine on a busy street corner in Siam Square. This Hindu shrine celebrates the god Brahma and is frequented non-stop by pilgrims who drape the shrine with garlands, light incense sticks that perfume the air, and sometimes even hire dance troops to perform in honor of the gods. If your heart aches at the sight of the shrine birds locked into impossibly tiny cages, you can buy one and set it free with a prayer.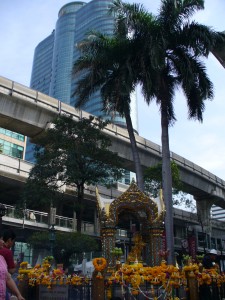 Another option is to head for the more quiet area just west of Siam Square, to visit Jim Thompson's house – a must-see for lovers of architecture. This house and its splendid garden are an oasis of calm and silence in the middle of Bangkok and used to belong to an American architect-turned-silkdealer. Thompson's house is entirely built up of teak wood in the traditional Thai style and filled with many precious Asian art objects. Part of the allure of the place is perhaps also that the man himself mysteriously disappeared in the sixties in Malaysia while on a walking tour, never to be seen again. Whether he was murdered or not, his legacy lives on in this graceful museum.
Continue your journey to the old Rattanakosin area close to the river, where you will find the city's most famous temples ("wat" in Thai) and perhaps Bangkok's top tourist destination: the large compound which includes the former Royal Palace and Wat Phra Kaeo. The palace is a maze of halls and courtyards in a mix of European and Thai architecture, abundant with intricate details and gold-leaf. Today the royal family no longer lives there however it is used only for ceremonial events. In Wat Phra Kaeo's dazzling interior, you can see a small, very famous and very holy Buddha statue (the emerald Buddha from Bangkok's name!) that was carved from a single block of jade in the 14th century. Every season, the Thai king himself lovingly performs the important ritual of decorating the little statue in one of his three cloaks, to ensure good fortune for the nation.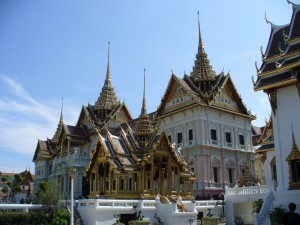 A ten-minute walk from these two sights, you find the more quiet Wat Pho, one of the oldest and largest temples of Bangkok. Allow yourself to soak up the peaceful atmosphere and enjoy seeing the 46-meter long golden statue of the Reclining Buddha, whose foot soles are decorated with auspicious scenes in mother-of-pearl. Wat Pho also includes the country's leading massage school, so if you want you can book a treatment here. Beware! A real Thai massage can sometimes be anything but relaxing, with some serious, painful stretching included to improve your blood flow!
Not far from the Royal Palace compound, you can stray into Yaowarat and suddenly find yourself in a completely different culture: welcome to Bangkok's Chinatown. Walking along Charoenkrung Road, one store after the other sells vast quantities of shiny gold, interspersed by restaurants with all-Chinese menus or shady stores offering unrecognizable packages of medicinal herbs. Allow yourself to get lost here, without being surprised that Chinese temples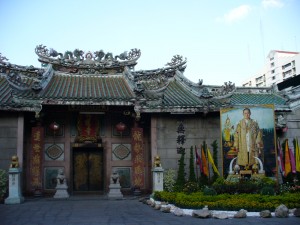 stand side by side with portraits celebrating the Thai king;
or that a market stall seems to sell both bloody chickens, cheap underwear and sleeping dogs…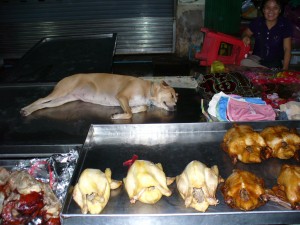 If you feel you need a breath of fresh air, an excellent option is to hop on the nearby Chao Phraya Express Boat, a cheap and useful water ferry that crosses Bangkok's main river. Not only is it a more efficient way to traverse the city than chartering your own long-tail boat, it also provides you with a nice view and a fun experience.
If it is now nearing sunset and you are up for a surreal experience, head to the seedy, carnivalesque red-light district of Soi Cowboy, just across the road from the Sukhumvit Skytrain station. Everyone knows about the Thai bar scene, frequented by middle-aged Western men with beer bellies and sorry life stories,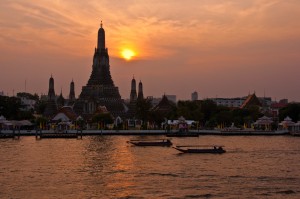 and Bangkok is no exception. Writing about these areas is difficult, as they are a very ambiguous feature of Thailand. On the one hand, when you are strolling past the many venues with their pumping music and you are invited inside with the promise of attractions like "pussy cuts banana" or "pussy smokes cigarette," you feel sick. You bite your lip and look away when you see girls dancing on bars, wearing nothing more than a bra and hotpants (or less), knowing that most of them are both very young and very poor, and often came from the arid northeast of Thailand in hopes of making a better life for themselves. At the same time, you are easily drawn to these areas, like a moth to a flame – whether to verify if the shameful stories of expat men leering at young bodies are true, to engage in gawping disaster-tourism or simply to have a drink in this most surreal area, surrounded by the energy and life of the city. I don't know whether I should advise you to spend some time here so you know that the City of Angels includes all kinds of fallen angels, or to shake my head and lead you somewhere else.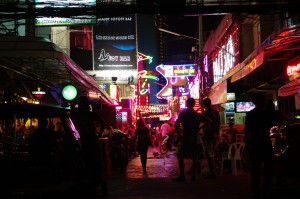 Let me finish with an almost magical, not-to-be-missed weekend destination: Chatuchak, or JJ Market! This is hands down the best market I have ever been to. I know Istanbul's bazaars are famed, as are Morocco's souks – but never have I been to a place where they literally have everything. Every single thing you can imagine: silk scarves, rusty Buddha statues, plastic flower lights to decorate your windows, t-shirts of Homer Simpson talking Japanese, bubble tea with cinnamon flavor, old maps turned into wallpaper, … You name it, you find it. The thing is that Chatuchak is so huge and confusing, that I can only compare it to Hogwarts – whenever you decide you like an item "but I'll come back for it later so I don't have to carry it around all day," forget it. The chances are close to zero of you finding your way back to the exact stall you are looking for. Shopkeepers seem to magically vanish, little hidden alleys turn up where before there were none, and all the while you discover new, exciting trinkets that you didn't know existed. That Homer Simpson t-shirt I mentioned? Yeah, I never did find it again and regret it until today. If you want the world's most hardcore shopping experience, head to the north of Bangkok armed with a big bottle of water and a good pair of flip-flops, and go wild.
 Text: Eva Corijn
Bilder: Milei Vencel, Christian Haugen,Mark Fischer, JJ Harrison and Eva Corijn
Warning: Undefined array key "img" in /customers/f/c/6/utblick.org/httpd.www/wp-content/plugins/molongui-authorship/views/author-box/parts/html-avatar.php on line 4
Warning: Undefined array key "type" in /customers/f/c/6/utblick.org/httpd.www/wp-content/plugins/molongui-authorship/views/author-box/parts/html-name.php on line 17 Warning: Undefined array key "type" in /customers/f/c/6/utblick.org/httpd.www/wp-content/plugins/molongui-authorship/views/author-box/parts/html-name.php on line 19 Warning: Undefined array key "type" in /customers/f/c/6/utblick.org/httpd.www/wp-content/plugins/molongui-authorship/views/author-box/parts/html-name.php on line 21 Warning: Undefined array key "archive" in /customers/f/c/6/utblick.org/httpd.www/wp-content/plugins/molongui-authorship/views/author-box/parts/html-name.php on line 37 Warning: Undefined array key "name" in /customers/f/c/6/utblick.org/httpd.www/wp-content/plugins/molongui-authorship/views/author-box/parts/html-name.php on line 41
Warning: Undefined array key "bio" in /customers/f/c/6/utblick.org/httpd.www/wp-content/plugins/molongui-authorship/views/author-box/parts/html-bio.php on line 8