Since the start of the Ukrainian demonstrations in November – where discontent turned reactionary after president Yanukovych turned down offers of further European integration in favor of a trade deal with Russia – during the past 10 weeks, peaceful sit-downs have escalated into mayhem in the streets.
As expected, the level of unity and homogeneity among the protestants have been reported to be very low, where lack of leadership and centralized command-chains are supposed to constitute a major weakness for the protests. Furthermore, the diffusion of goals typical for the European mass-protests of recent years, are also found within Euromaidan, as the movement is called. Is it anti-Yanukovych or pro-EU, analysts wonder.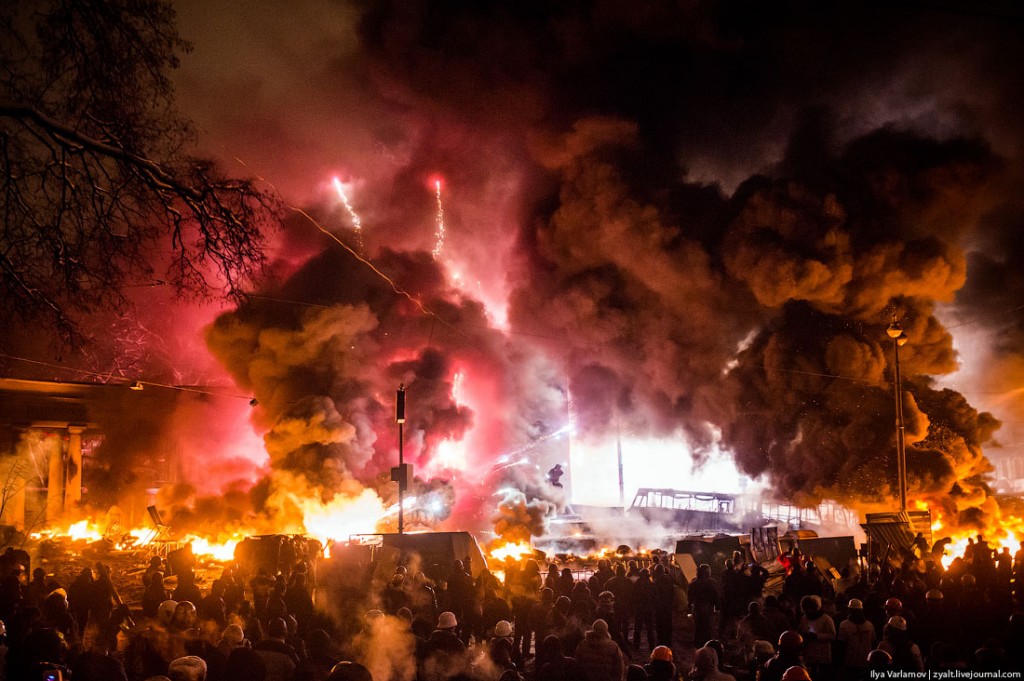 Speaking at a panel hosted by Brännpunkt Europa in Gothenburg last week, sociologist Oksana Schmulyar Green explained how the perceived lack of leadership is one of the challenges for the opposition:
– Although you could argue that the lack of unity is a problem, one leader will not solve these problems. (…) Recasting a country is a collective effort.
Still, it is hard to argue against the fact that things are happening in the tracks of the burning tires and the trails from the Molotov cocktails, with or without coherence. Violence was spread over the southern parts of the country on Sunday, as the Justice Department was briefly occupied in the capital of Kiev.
After negotiations on Monday, the repressive anti-demonstration laws where scrapped and political prisoners were offered amnesty in exchange for disassembled barricades and cleared streets in Kiev. On Tuesday night both opposition front men Arsenij Jatsenjuk and Vitalij Klytjko had officially refused to accept membership in a proposed coalition government together with Yanukovych – seemingly answering the earlier question concerning the goal of the movement: the government has to go. At the same time, none of the forerunners of the more or less established opposition can be claimed to lead the action that is taking place among the protesters, distinguishing the political protest in Ukraine ten years ago from the popular uprising of today.
In light of Russian president Vladimir Putin's exhortation for the EU to stand by, while maintaining that the agreed loans and trade deals will remain, another contributor to the panel discussion in Gothenburg provides insight to the recent developments. According to political scientist Ketevan Bolkvadze, Russia's regional policy can be simplified according to a premise of stabilizing further where stability is needed (Azerbaijan, Belarus, Albania), and acting destabilizing in countries of their "backyard" where reform is advent (Ukraine, Georgia, Moldavia).
As Catherine Asthon travels to Kiev, the question remains in which direction the protests are heading – with regard to recent events, we could expect unpredictability to remain one of the characteristics of the near future for Ukraine.
Text: Josef Svantesson
Photo: Ilya Varlamov
josef.svantesson [at] utblick.org