Cecilia Wikström is one of those women whom are rare to find. She is a mother, a priest, a Member of the European parliament, a member of LIBE (Committee on Civil Liberties, Justice and Home Affairs) and JURI (Committee on Legal Affairs). A European more than a Swedish politician and a person devoting her time and space to a better Europe.

Utblick met her while she was ending an informative tour in several universities regarding the latest Directives' changes on international human capital coming from third-countries.
The final directive aims to lubricate and give parlour to a rusty bureaucratic system, discouraging young international academics who want to choose EU as their place of education, research, or work. The whole idea is based on the intention to make Europe the magnet for global researchers, academics and other specialized human resources.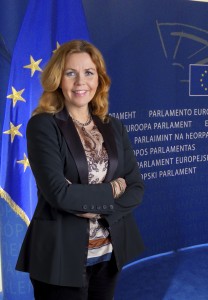 In January 2014, the European Parliament voted without hesitation in favor of the final Directive, so now it is the Council that has to take the floor on the matter. Cecilia has become a rapporteur on the case and will negotiate with the Council, having high hopes on the outcomes of these negotiations.
Today there are thousands of students residing outside European borders choosing EU's universities for their first, second or third cycle of studies. After their studies, some of them prefer to stay and continue their education or if they are lucky enough, find a job within their field of specialization within the EU. The rest go back home, not always willing to do so. Member-states have different practices on the time provided for job search upon graduation or ending of the research program for third-country nationals. As Cecilia mentioned, Germany leads the list by giving more time to these people, while Sweden ranks last. The Directive will enforce a unified stance for member-states, by aiming to expand time of residence for job search for people that have been educated in the EU, to as much as 18 months. Effectively, enabling this human capital to stay and work in the EU. As she mentions in her report "other parts of the world are becoming far more successful in attracting skilled workforce, whilst in the EU, complicated bureaucracy and scepticism towards immigrants scare people away". This stance is risky to a demographic with an ageing population and constant need for specialized workforce of the European Union.
Cecilia, you are putting forward in the EU supranational institutions, a proposal to amend current rules on conditions of entry and residency of third-world country nationals for the purpose of research, studies, pupil exchange, remunerated and unremunerated training, voluntary service and au pairing. Could you please elaborate, what is this proposal and what does it aim to enforce?
– In a 2011 Commission analysis we have observed that there were weaknesses in the current legislation regarding people that are getting educated in the European Union. Thriving from this prospect, there was some revision done from the Commission to the current Directives in order to be more beneficial for these people. As a rapporteur of the Parliament I have made a proposal to broaden some of the revisions from the Commission. Through this proposal we aim to extend the time limit for job-searching for people educated in EU, to extend the possible part-time job hours (while they study) from ten hours (currently) to 20 hours, to lower the limit for the decision of an residency application to 30 days, inclusion of new categories of peoples into the Directive, provisions for family members of researchers and others relevant issues.
It is hard not to notice that among the other more homogeneous category of researchers, the Directive have given place also to au pairs? Why would you think it is necessary to introduce also this group of people in the directive?
– People are being abused in various EU member-states. In their quest to find out the European reality they fall in traps of different scenarios. So this was the legislative act where we could introduce social safeguards or provisions to protect au-pairs, remunerated or unremunerated trainee and volunteers into this scheme. So we could provide them with some kind of social security, in terms of working hours, free-days etc. We should remember that the au-pairs or volunteers of today could be potential students and citizens of tomorrow. I believe if we treat them nicely, after going back to their home countries in the Philippines or African states, they will remember the good experience they had and will come back whenever they have to pursue their masters, or any studies.
They will become the unofficial ambassadors of Europe as well.
– Exactly.
What do you think about the international student environment today in Europe? Could we say that Europe is attractive for international students, thus becoming the global heart of academia?
– Unfortunately we are not there at this moment. But we need to improve, since we need to attract skilled people to Europe. Currently there is a huge demographic challenge and by 2015 it is predicted that the ratio will be one worker to one retired person. This is not an equation which fits and is far from being a golden ratio. The countries will lose their sustainability. Therefore a greater influx of people is necessary. As we speak Germany has a need of five million skilled professionals such as engineers, nurses, doctors etc. This necessity has arisen in order to protect the quality of the welfare state. We should mention that Germany's situation could be the tip of an iceberg with other countries to follow.
Since we are here, most of our readers would be interested to know your personal vision on the future of Europe in general and Sweden in particular. What is your vision for a better Europe and Sweden?
– We need to be a centre of excellence in the world. We need to underline the importance of education, research and innovation. We need to see that knowledge is our driving force. With knowledge we can foster growth and prosperity. This will encourage people to set up their business, thus getting rid of, or diminish, unemployment in Europe. For this we need to be a centre of excellence of education in the world. It is important to keep in mind that the European population is only seven percent of the global population, but we act as if we were the majority. We are not. Therefore we need to be more humble, by also attracting the best talented people (innovators, entrepreneurs, etc.) to come here and work with academia, civil society and other actors. Exchange of knowledge is fundamental.
We have acted as if we were the magnet that will attract people from all over the world. We shouldn't forget that some 130 years ago, people were migrating from Europe to America. At that time 25 percent of the population left Sweden to go to America and it was the same case for the Greeks, Italians, Spanish etc. People from all over Europe fled to escape misery, poverty, prosecutions, to set up for a better life in America. During the 20th century, we have been a centre of attraction for people from around the world, but we are not that attractive any more. People have started to seek their happiness elsewhere, in countries such as USA (still a bit), Canada, and Australia. India and China are very talented when it comes to attracting young, well-educated people. Therefore we need to be more humble and say "please do come, because we need you". We cannot live any more thinking that people will come just by some natural law. Why would they?!
Especially here in Sweden, where we have the harshest and most unfriendly climate in the world. Moreover we have also have social handicaps. We have a huge bureaucratic system giving the impression that people are not very welcome. We also have xenophobic voices which are becoming more and more vocal today than ever, so why should people bother to come, when it is easier to go, let's say, to Canada.
Text: Ermelinda Kanushi
ermelinda.kanushi [at] utblick.org
Photo: European Parliament
Warning: Undefined array key "img" in /customers/f/c/6/utblick.org/httpd.www/wp-content/plugins/molongui-authorship/views/author-box/parts/html-avatar.php on line 4
Warning: Undefined array key "type" in /customers/f/c/6/utblick.org/httpd.www/wp-content/plugins/molongui-authorship/views/author-box/parts/html-name.php on line 17 Warning: Undefined array key "type" in /customers/f/c/6/utblick.org/httpd.www/wp-content/plugins/molongui-authorship/views/author-box/parts/html-name.php on line 19 Warning: Undefined array key "type" in /customers/f/c/6/utblick.org/httpd.www/wp-content/plugins/molongui-authorship/views/author-box/parts/html-name.php on line 21 Warning: Undefined array key "archive" in /customers/f/c/6/utblick.org/httpd.www/wp-content/plugins/molongui-authorship/views/author-box/parts/html-name.php on line 37 Warning: Undefined array key "name" in /customers/f/c/6/utblick.org/httpd.www/wp-content/plugins/molongui-authorship/views/author-box/parts/html-name.php on line 41
Warning: Undefined array key "bio" in /customers/f/c/6/utblick.org/httpd.www/wp-content/plugins/molongui-authorship/views/author-box/parts/html-bio.php on line 8