This text could simply begin by nagging upon all the strange looks and comments one with long black beard might receive in the West. In fact, it even does not need to be long. Although this has been partly a lived experience of mine over the past six months that I've grown my beard, I decided to do the exact opposite.
In the next few lines, I try to list some of the possible motivations behind growing a beard which might trigger us to pause for a while, next time we encounter a bearded man and buy some time before rushing into any hasty judgment; a moment of wonder. Here I am discussing Black beards since, to my experience, beards of other colors are not subject of such an ambiguity in the West.
Black Beard as:
– A trendy fashion
Growing a beard might be a trendy fashion. Well, let me rephrase that: growing a beard, of any color, might be a trendy fashion; as simple as that.
– An ebullition
Emotional outbursts might come in different forms. Growing a beard might be sign of an emotional outburst; an ebullition. In a societal context, minorities of different sorts might experience several ebullition periods due to their submissive position vis-à-vis dominant position of the majority. Such an experience may occur in very ordinary contexts, and herein you might bear the feeling more frequently if you are easy to spot. Let's take a Middle-Eastern with black hair in a mix of white Swedes. This would put the person on display and potentially more subjected to the submissive status. Appearance has an identity touch. The way we look is deeply intertwined with our inner identity. Growing a beard might be a way to surface this feeling, a way to oppose the unreceptive ambience, a way to not dilute the basal identity elements i.e. appearance: "Yes, this is me. I am different."
– A religious identity-element
Some followers of many religions grow beard, namely Jews, Christians, Sikhs, Hindus and Muslims. This practice might be underpinned by different reasons e.g. sign of a pious living, endorsed by a Prophet, etc. At the end of the day, growing a beard might count as an identity element for some followers, especially if they reside outside their society of origin. Therefore, growing a beard might become a practice to emphasize their identity. Humans languish without identity.
– A flag of fanaticism?
There exist fanatic figures that have beard. However neither all bearded men are fanatics nor are all fanatics bearded. Indeed, fanatics come in all sorts of color, shape and race. The term fanatic might easily be attributed to a thought or behavior but it is difficult to depict a fanatic appearance. However, black beard as a flag of fanaticism is perhaps the perception many in the West have; a perception full of prejudices lurked beneath the surface and rarely challenged. A perception which West-centric media, among several contributing factors, has perhaps played a role in shaping through selective projection of others.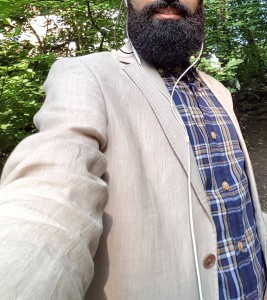 Warning: Undefined array key "img" in /customers/f/c/6/utblick.org/httpd.www/wp-content/plugins/molongui-authorship/views/author-box/parts/html-avatar.php on line 4
Warning: Undefined array key "type" in /customers/f/c/6/utblick.org/httpd.www/wp-content/plugins/molongui-authorship/views/author-box/parts/html-name.php on line 17 Warning: Undefined array key "type" in /customers/f/c/6/utblick.org/httpd.www/wp-content/plugins/molongui-authorship/views/author-box/parts/html-name.php on line 19 Warning: Undefined array key "type" in /customers/f/c/6/utblick.org/httpd.www/wp-content/plugins/molongui-authorship/views/author-box/parts/html-name.php on line 21 Warning: Undefined array key "archive" in /customers/f/c/6/utblick.org/httpd.www/wp-content/plugins/molongui-authorship/views/author-box/parts/html-name.php on line 37 Warning: Undefined array key "name" in /customers/f/c/6/utblick.org/httpd.www/wp-content/plugins/molongui-authorship/views/author-box/parts/html-name.php on line 41
Warning: Undefined array key "bio" in /customers/f/c/6/utblick.org/httpd.www/wp-content/plugins/molongui-authorship/views/author-box/parts/html-bio.php on line 8