HEJ HEJ!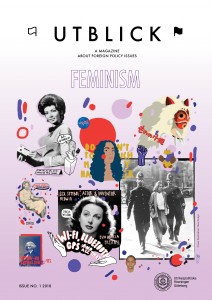 This issue has been carefully curated and edited by yours truly, Moa Persson and Ariadna Carrascosa, the new editors of UTBLICK magazine for this coming year 2018. We are very excited and glad to offer you this issue focused on feminism that we hope you enjoy as much as we did putting it out together!
You can grab a copy in different campuses, libraries and cafés around town but you can also read it HERE if you prefer.
This is the beginning of an incredibly exciting and promising year in UTBLICK magazine and we hope you will come along with us.
We wish you a pleasant, critical and feminist reading,
Moa and Ariadna
moa.persson@utblick.org, ariadna.carrascosa@utblick.org
Link to the magazine: 1st Issue 2018 FEMINISM
Warning: Undefined array key "img" in /customers/f/c/6/utblick.org/httpd.www/wp-content/plugins/molongui-authorship/views/author-box/parts/html-avatar.php on line 4
Warning: Undefined array key "type" in /customers/f/c/6/utblick.org/httpd.www/wp-content/plugins/molongui-authorship/views/author-box/parts/html-name.php on line 17 Warning: Undefined array key "type" in /customers/f/c/6/utblick.org/httpd.www/wp-content/plugins/molongui-authorship/views/author-box/parts/html-name.php on line 19 Warning: Undefined array key "type" in /customers/f/c/6/utblick.org/httpd.www/wp-content/plugins/molongui-authorship/views/author-box/parts/html-name.php on line 21 Warning: Undefined array key "archive" in /customers/f/c/6/utblick.org/httpd.www/wp-content/plugins/molongui-authorship/views/author-box/parts/html-name.php on line 37 Warning: Undefined array key "name" in /customers/f/c/6/utblick.org/httpd.www/wp-content/plugins/molongui-authorship/views/author-box/parts/html-name.php on line 41
Warning: Undefined array key "bio" in /customers/f/c/6/utblick.org/httpd.www/wp-content/plugins/molongui-authorship/views/author-box/parts/html-bio.php on line 8