The second issue of 2018 is finally here!! This time we have explored the theme of elections and democracy in a changing world.
This year we are facing an enormous amount of elections. One of the most important aspects of a democracy is elections, free and fair elections is what gives voice to our societies. Earlier this year we have seen Putin's reelection in Russia, and also Hungary and Poland's move towards nationalistic politics and anti-european governments. Since previously we have already witnessed the low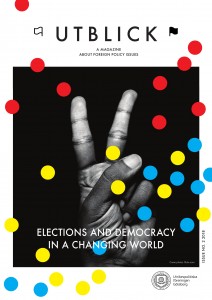 voting participation in France's elections, Germany's struggle with building a government, the victory of Trump in the US. But not to forget some positive trends in democracy as the surprisingly peaceful resignation of Zimbabwe's long ruling leader Mugabe, that now will lead up to a parliamentary election later this year. As well as the formation of new political parties, like the Demokraterna in Gothenburg, who is claiming to be neither left or right and the left wing Podemos in Spain, just to mention a few. So we thought it would be the right time to explore the concept of elections and a myriad of issues entailed to it, especially with the upcoming Swedish election that will be held in September.
We wanted to look at elections in a wider spectrum and from different countries and cultures. So in this number of Utblick we hope you will learn about some of the elections which are taking place this year and some trends we are witnessing in the world right now. Such as the worrying lack of participation of the young generation in elections or the disconnect between society and politicians. This has brought to life alternatives like e-democracy initiatives such as DigidemLab.
This is not to undermine national election issues, such as the coming mexican election, which is believed to shake the country's policies. As well as the need to critically review parliamentary and presidency laws that might be discriminatory, such as the case of Bosnia and Herzegovina. Or democratic retreats, like in Cambodia.  
So, in this issue we have compiled these and many more articles and topics that we hope you will enjoy.
You can check the magazine here.
Or grab a copy in different campuses, libraries and cafés around Gothenburg!
Pleasant reading!
Moa Persson and Ariadna Carrascosa
Warning: Undefined array key "img" in /customers/f/c/6/utblick.org/httpd.www/wp-content/plugins/molongui-authorship/views/author-box/parts/html-avatar.php on line 4
Warning: Undefined array key "type" in /customers/f/c/6/utblick.org/httpd.www/wp-content/plugins/molongui-authorship/views/author-box/parts/html-name.php on line 17 Warning: Undefined array key "type" in /customers/f/c/6/utblick.org/httpd.www/wp-content/plugins/molongui-authorship/views/author-box/parts/html-name.php on line 19 Warning: Undefined array key "type" in /customers/f/c/6/utblick.org/httpd.www/wp-content/plugins/molongui-authorship/views/author-box/parts/html-name.php on line 21 Warning: Undefined array key "archive" in /customers/f/c/6/utblick.org/httpd.www/wp-content/plugins/molongui-authorship/views/author-box/parts/html-name.php on line 37 Warning: Undefined array key "name" in /customers/f/c/6/utblick.org/httpd.www/wp-content/plugins/molongui-authorship/views/author-box/parts/html-name.php on line 41
Warning: Undefined array key "bio" in /customers/f/c/6/utblick.org/httpd.www/wp-content/plugins/molongui-authorship/views/author-box/parts/html-bio.php on line 8