The last issue of UTBLICK of this year has arrived!
We have covered human rights: the rights we have for simply being humans,  supposedly inherent to all of us without discrimination. Something you would think would be "set in stone", however, they have been growing and evolving since their conception. What's more, their application is constantly on the line. Sadly, this makes it possible to talk about the multiple violations of human rights. 
You will be able to learn more about some of the infringements, for example the refugee status and its links with the duty to rescue in the French case or the Australian government policy. We also discuss foreign domestic workers, their fragile citizenship and the abuses they are subjected to, such as inhumane working hours.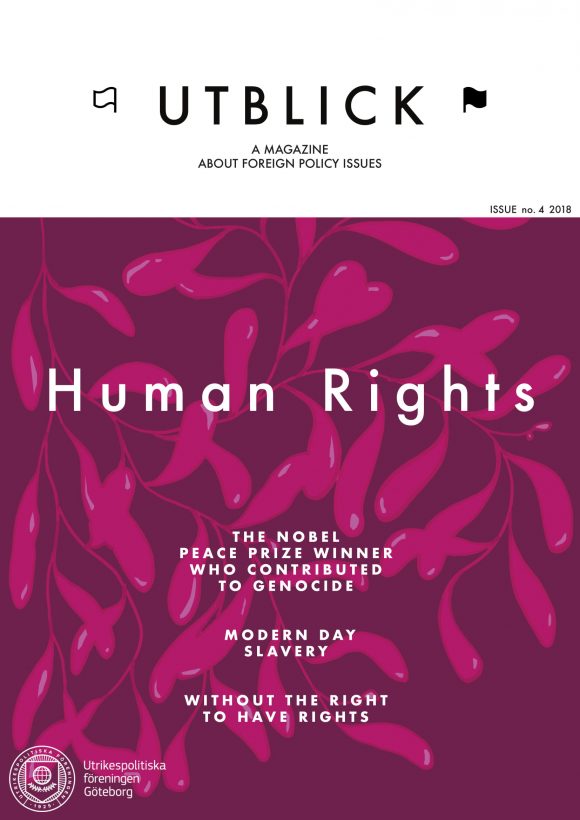 You can read about violations of the right to a fair trial and some creative outcomes of it; the dubious status of disabled people as bearers of rights around the world and the treatment of homeless people in the UK. Also,the extents to which nationalisation of giving birth and bearing life in China has gotten to, exemplified by the changing of its one-child policy.
You will also be able to delve into reflections about the complex connection between the nation state and civil society; the relationship between human rights and climate change and an article about Aung San Suu Kyi and her status as a fallen human rights figure.
Lastly, and perfectly matching this season of the year, we have an interesting perspective on tradition and innovation, exemplified with the Dutch Sinterklaas and Black Pete.
Finally, we would like to thank Emma, who took over as Utblick's graphic designer this fall and couldn't have done a better job!
You can read the new issue HERE.
Hope you have enjoyed this year of UTBLICK as much as we did putting the issues together!
We wish you happy holidays and pleasant reading,
Moa and Ariadna
Warning: Undefined array key "img" in /customers/f/c/6/utblick.org/httpd.www/wp-content/plugins/molongui-authorship/views/author-box/parts/html-avatar.php on line 4
Warning: Undefined array key "type" in /customers/f/c/6/utblick.org/httpd.www/wp-content/plugins/molongui-authorship/views/author-box/parts/html-name.php on line 17 Warning: Undefined array key "type" in /customers/f/c/6/utblick.org/httpd.www/wp-content/plugins/molongui-authorship/views/author-box/parts/html-name.php on line 19 Warning: Undefined array key "type" in /customers/f/c/6/utblick.org/httpd.www/wp-content/plugins/molongui-authorship/views/author-box/parts/html-name.php on line 21 Warning: Undefined array key "archive" in /customers/f/c/6/utblick.org/httpd.www/wp-content/plugins/molongui-authorship/views/author-box/parts/html-name.php on line 37 Warning: Undefined array key "name" in /customers/f/c/6/utblick.org/httpd.www/wp-content/plugins/molongui-authorship/views/author-box/parts/html-name.php on line 41
Warning: Undefined array key "bio" in /customers/f/c/6/utblick.org/httpd.www/wp-content/plugins/molongui-authorship/views/author-box/parts/html-bio.php on line 8