By: Uwe Fromm
Last night, the world got to witness the third and final presidential debate, held at Belmont University in Nashville (Tennessee) and moderated by Kristen Welker (NBC News), before the upcoming election in just 11 days. Uwe Fromm gives us the low-down of the last debate.
A third debate – which should be called the second debate – after the 'Town Hall' debate on October 15th in Miami, was canceled due to President Trumps Covid-19 infection on October 2nd. To make up for the canceled debate, a digital encounter of the opponents was scheduled shortly after. However, as this did not meet the expectations of the President, this event was also canceled, leading to two separate 'Town Hall' events, each organized by the respective political camps, each with only one of the candidates, each, curiously, happening simultaneously, and each drastically different from each other.
While Trump was questioning wildly accepted scientific views – on the effectiveness of wearing a mask, not dementing conspiracy theories when specifically asked and picking up yet again on the narrative that ballots with his name on them were being thrown away – Biden had a far more policy-focused agenda. In several long-winded answers, Biden tried to focus on how his plans would affect 'everyday' Americans. This by talking about funding for low-income schools, helping first-time homebuyers, new funding for historically black colleges and universities, and government-backed loans for young black entrepreneurs.
With the 8.5% (Real Clear Politics tracker) lead of Joe Biden, who also still has three times as much money to spend on campaigning in the last days before the election, last night was one of the last chances for Donald Trump to convince the American people, why they should be voting for him. While this debate generally followed the first debate on September 29th in style, some changes were supposed to be working towards a fairer, more balanced, and 'civilized' discussion. During the first debate, the 90-minute talking time was going to be split into 15-minute segments, which were dedicated to the topics 'race in America', 'Covid-19', 'climate change', 'national security', 'leadership', and 'America's families'. For each of these segments, both candidates were again given a 2-minute uninterrupted answering period, enforced by the ability to mute the other candidate's microphone. A ruling which President Trump felt would be unfair to him, just as the topics foreseen for the debate as they were, in his opinion, not focusing enough on foreign policy issues. The remaining time was dedicated to an open discussion between the candidates. If Trump would be able to dial back his demeanor since the last debate, was to be seen presently.
Covid-19
President Trump opened by stating that the United States' situation was getting better and that spikes that had been appearing lately were already gone again. This stands in harsh contrast with Joe Biden's view on that matter, who foresees a "dark winter" coming up for the U.S. Also, Trump claimed that a vaccine is "ready" and that it would be "announced within weeks" asked if that were a guarantee, he answered that it is not, but that he thinks the vaccine would be ready by the end of the year. Biden emphasized that the vaccine has to be 'transparent', and scientifically tested before it would roll out to the public. He also criticized Trump for claiming that the pandemic would be over by April and that, therefore, his statements should be taken with caution. Furthermore, he also said that if Trump had shared his information on the actual danger of the virus earlier and supported mask-wearing, about 100.000 lives could have been saved. The two candidates could also not agree on how to deal with the virus in the future. Trump mainly having the American economy in mind by opening up everything promptly and Biden insisting on developing a national strategy to start the opening up procedure in a way that would not endanger anyone and prevent the virus from spreading further. This segment on the Covid-19 pandemic showcased the stark contrast between the candidates in their approach, arguing about economy versus lives and their stance on fact-based evidence.
National Security
Regarding national security, Joe Biden opened by stating that every country trying to interfere with the presidential elections would pay a price as this would constitute an interference with the United States' sovereignty, adding that he had been missing a hard line towards foreign interference from President Trump especially mentioning Russia, China, and Iran. Instead of making them 'pay,' he rather befriended these countries and, in return, was poking at the US' allies. By doing so, Trump had legitimized countries like North Korea instead of making them follow international rules. In return, Trump stated that he had been tougher than most towards Russia by imposing tariffs and sanctions and claimed that Biden would have received 3,5 Million Dollars from Russia. Biden rebutted that he had never taken any money from foreign sources taking the advantage to turn the discussion towards Trumps' unpublished tax return and a bank account Trump has in China. Donald Trump explained paying "tens of millions of dollars" in taxes in advance, adding that he would publish his tax return soon and that the Chinese bank account was established (and closed) before his run for office. Also, Trump stirred the topic towards Ukraine and Bidens' son, to which Biden, again, responded that none of the investigations had shown that something unlawful has happened.
America's Families
The first topic within this segment concerned 'Obamacare', which Trump would like to terminate. While the Trump administration is supporting a lawsuit currently before the supreme court that could lead to Obamacare's end, Trump stated that if this case would be lost, they would need to keep running Obamacare but without the individual mandate, which is already gone. Furthermore, he said that people with pre-existing conditions would not have any disadvantages from that and would still be safe, yet, not being able to explain how. On the other hand, Joe Biden would like to keep Obamacare and add a public option, referring to his plan as 'Bidencare' and wanting to promote competition between insurance companies, adding that healthcare is not a privilege, but a right. The debate then shortly turned to the coronavirus relief bill before the candidates were asked about a minimum wage – especially in the current situation, to which Trump answered that minimum wage should be a state issue as they can better decide if it would have a positive or negative impact on businesses within a particular state, while Biden supported a bigger scope and not putting the decision on the state level. Finally, the segment also addressed the children's situation separated from their parents at the U.S. border. Here Trump claimed that the cages in which the children are held were already built in 2014 and that he was working very hard to reunite them with their parents, which he previously in the debate called 'coyotes'. Biden, conversely, stressed that these children came with their parents and were taken from them to disincentivize immigration.
Race in America
Being asked if he could understand the struggles of black Americans, Biden acknowledged that "there is institutional racism in America" and that the U.S. did not live up to its standard that 'all men are created equal'. Trump, avoiding admitting the existence of institutional racism, pointed out that nobody has done more for the black community than himself. This by trying to point out that Biden had been bringing harm to the black community with the instruction of the crime bill. Regarding the vocabulary he used to describe the Black Lives Matter movement, among others, he did not see a problem and that he would be the "least racist person in this room". Biden was naturally opposed, claiming that he was "one of the most racist presidents we've had in modern history".
Climate Change
Opening the segment with the statement that he loves the environment, Trump claimed that the United States had the lowest number on carbon emissions in 35 years. He tried to justify the decision of pulling out of the Paris Agreement by pointing at China and Russia, which would emit far more pollutants and yet the U.S. would need to pay the price by hurting its economy when following the agreement. Joe Biden emphasized that climate change is an existential threat and therefore pointed towards the need to expand renewable energy sources like solar and wind energy. This, he stated, could also be done by slowly backing out of the oil industry and redistributing the substitutes to renewable energies. By carrying out this change, Biden claimed, not only would the environment profit but also the economy and the job market, also having every major environment and the labor group backing his plan. A plan that Trump suggests would be way too expensive to follow through with, and besides that, he said, the energy sources proposed by Biden would not be sufficient to support the country.
Leadership
Already being in overtime, this segment was reduced to just one question, asking the candidates what they would say to the people who did not vote for them during their potential inauguration speech. While Trump took this question to repeat his key point of rebuilding the economy after it had suffered during the Covid-19 pandemic, Biden promoted himself as the president for all Americans, aiming to give them hope and scientific-based decisions.
Last night's debate cannot be compared to the first debate, which was widely considered a hot mess. This is, to a great extent, also due to the moderator Kristen Welker who had the debate under control at all times and just ran short of time during the last segment. President Donald Trump appeared very calm, quite clear in his argumentation, and mostly structured. Joe Biden improved his performance compared to the first debate. This especially holds true, when Trump was trying to attack Biden, who was able to – once in a while – flip the coin and start a counterattack. Especially during the discussion on the Covid-19 pandemic, both candidates showed a great contrast. A red thread continuing through Trump's line of argumentation was calling out Biden as a 'typical politician', as he, in his 47 years in Washington and especially in the eight years in office as vice-president but did not get any of his promises through.
Overall, Joe Biden's performance was better compared to the first debate. He appeared a little more aggressive and appealed to the American people as a candidate for all, not just for Democrats. Therefore, Biden could easily be seen as the winner of last night's debate. Nevertheless, Trump's performance might appeal to voters who generally support his policies but opposed his appearance and behaviour during the first debate.
With only 11 days left until the election, it will be interesting to see which effect this will have on the voters, especially the undecided voters that still make up somewhere between 2 and 5 percent. Polls see Biden far ahead of Trump. Yet, if 2016 has taught us anything – polls back then assumed Hillary Clinton would win, she did not – polls should be consumed with caution. Are they right this time? We will probably need to wait a little longer than just 11 days to know. But even if it will take a while until all mail-in ballots are counted, this upcoming election already seems to become a historic one, at least in terms of voter turnout that is predicted to be the highest in more than a century. Whatever the next days and weeks will look like: Stay informed, interested, and involved!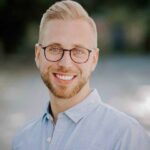 Fromm is studying his second year at the Msc in European Studies. His main interests lie in the EU multi-level system and how the local level can influence the EU's decision-making processes.