Unlike its Deep South neighbors, Georgia emerged as a battleground in the 2020 election, with two senate seats and sixteen electoral college votes up for grabs. A microcosm of the country in the era of Trump, Peach State politics is cluttered with issues of procedure and power rather than policy: allegations of illegitimacy, voter suppression, and electoral fraud. These developments set the scene as Georgians anticipate the Senate run-offs on January 5th.
To understand why Georgia is in its current position, 2018 is a good place to start. Longtime minority leader of the state's House of Representatives, Stacey Abrams, officially launched her campaign for governor after winning her party primary by a landslide. Her opponent, Brian Kemp, was then the Attorney General, leaving him in the privileged position of overseer of the race he was taking part in.
About a month prior to election day, Kemp halted 53,000 voter registration applications, disproportionately from African Americans, on technicalities provided by the newly enacted "exact match" law. Under this provision, applications could be denied if information did not match in full what was on state records. When the fateful election day came around, the race narrowed to the closest outcome seen in Georgia since 1966, and Brian Kemp won by a mere 55,000 votes. Stacey Abrams and her allies decried Kemp's actions as clever voter suppression, and although she admitted she did not have the votes to win, neither did she formally concede. Instead she clarified in a speech that "concession means to acknowledge an action is right, true, or, proper," and would therefore be an unfitting response to Kemp's "erosion of our democracy".
In response to this contested outcome, Abrams took the offence. She established two new organizations, Fair Fight, which operates in 20 competitive states across the country, and the New Georgia Project, focused exclusively on elections in her state. Allied with various other get-out-the-vote groups, Abrams and her team went to work. The outcome – a total of 800,000 newly registered voters – was astonishing in itself, and a decisive advantage for Joe Biden's campaign. Even as the election results were still coming in, Democratic pundits already expressed hopes of a comeback in the state:
"We've got a very strong ground game in Georgia because of the leadership of Stacey Abrams," said Senator Chris Coons of Delaware to MSNBC just three days into the state's vote count.
Like in Pennsylvania and Michigan, the results in Georgia faced many failed legal challenges by the Trump administration in a desperate attempt to hold on to power. But after a manual recount and a machine audit, Joe Biden's certain victory marks Georgia's first Democratic presidential win since 1992.
The results of all other 2020 senate elections are in. But in Georgia, no candidate in either of the senate races earned a majority of votes, warranting a run-off according to the state's electoral rules. Now that the dust is settled, Raphael Warnock and Jon Ossoff stand as the king-makers of the Democratic Party. Only with both victories can the Senate gain a bare majority. In a 50-50 balance of power, Vice President Kamala Harris would step into her constitutionally outlined role as ex officio president of the Senate and break any ties in the chamber. Ideally, Democrats would be able to operate without obstruction from current Senate majority leader Mitch McConnell. But uniting the progressive and moderate wings of the party will be a challenge in itself, especially considering the more conservative outlier Joe Manchin, who has consistently voted against his party about a quarter of the time.
Progressives in particular have quite a lot hinging on the outcome of these races. As the senior Democrat on the Budget committee, progressive leader Senator Bernie Sanders would become the committee's chair in the case of a Democratic majority, assuming he is not given any Biden cabinet position. The Senator has already commented on the possibility, promising a budget "for working families, and not for the billionaire class" under his leadership. In the absence of partisan gridlock in the Senate, progressives are also likely to turn up the heat on their moderate colleagues to push through popular plans such as Medicare for All, a Green New Deal, and student debt relief while they have the chance. Moderates, unable to claim that their hands are tied, will be forced to defend their reservations on policy grounds.
While the party takes nothing for granted, Abrams has expressed confidence as Georgia prepares for January 5th. She points to the high number of absentee ballots requested, especially among younger voters, and 85,000 new requests made by people who did not vote in November's general election.
The Republican position is less encouraging. Senators Kelly Loeffler and David Perdue are tasked with defending their seats at a time when the Republican Party is disorganized by mixed messaging. The party's ground game appears sabotaged by claims coming from the President and his legal team in the wake of the 2020 outcome. Propagating the "rigged election" narrative at a "Stop the Steal" event in Alpharetta, Trump attorneys advised the President's loyal base not to vote in the upcoming run-offs and shamed Loeffler and Perdue for not supporting Trump's litigations enough.
"This is Georgia. We ain't dumb. We're not going to vote on Jan. 5 on another machine made by China. You're not going to fool Georgians again." jeered attorney Lin Wood, pacing the stage with a signature red "Make America Great Again" hat.
Attorney Sidney Powell provided her own similar advice. "I think I would encourage all Georgians to make it known that you will not vote at all until your vote is secure."
The conspiratorial narrative peddled by the two attorneys complicates matters for other party officials in the lead-up to these important races. Republican National Committee Chairwoman Ronna McDaniel faced a disheartened and skeptical crowd at a campaign stop in the town of Marietta. When one attendee asked for a reason to go vote if the election is already decided, McDaniel attempted to reassure the audience:
"It's not decided. This is the key. It's not decided. If you lose your faith and you don't vote and people walk away, that will decide it. So we have to work hard. Trust us. We're fighting. We're looking at every legal avenue."
The chairwoman entertained two dissonant stories about American democracy, one that serves the Trump White House, and another that Republicans actually need to win: the elections are rigged from the start to favor Democrats, but your vote also matters and is needed.
The damage done has not gone unnoticed. After Trump himself hosted a rally for Senators Loeffler and Purdue, spending most of his time claiming his own victory and questioning electoral integrity, Georgia's Lieutenant Governor Geoff Duncan did not hesitate to call out the President for his "mountains of misinformation." Duncan stated that such claims are in fact hurting the party's prospects. While this may be a short term effect, he clarified, these antics pose a long term challenge for the party as it seeks a new platform and message without Trump. While the President's most loyal supporters chant "Destroy the GOP" in Washington D.C., a sign of the party's implosion, Democrats are focused on increasing turnout of a diverse voter coalition to carry them to the finish line.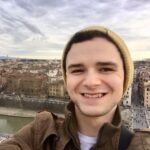 I'm a politics student with a history problem. Writer for Utblick since August 2020