This January marks three years since women were extended the right to drive in Saudi Arabia. The historic move has been praised by Saudi women, women's rights activists and the international community alike, but should also be seen in the light of the imprisonment of activists promoting the reform.
Saudi Arabia is known for its ultra-conservative stance with which women's lives, bodies and minds are systematically controlled, monitored and instrumentalized by the state and society. Gender discriminatory norms are imposed on Saudi women and their personal freedoms and participation in public life are severely restricted, just as their freedom is prevented by the male guardianship system. The male guardianship system is the biggest obstacle to women's rights in Saudi Arabia, as it requires adult women to seek permission in order to make important decisions for themselves, and prevents them from an independent lifestyle. These imposed restrictions apply from birth to death, as Saudi women are considered permanent legal minors. A decades-long campaign for the right to drive started in earnest in 1990 by activists promoting women's freedom of movement. Back then, women who were caught driving in the capital Riyadh would be heavily stigmatized. They could be banned from travelling abroad for up to a year, and some would even lose their jobs. Finally, in the year 2018, women were allowed to drive. It was viewed by some as the year of departure towards equality for Saudi women who have lived under repressive laws and systems such as that of male guardianship.
However, weeks before the ban on women driving was lifted, Loujain al-Hathloul, one of the pioneers for women's right to drive, was arrested by Saudi authorities. Loujain al-Hathloul was among the human rights activists who became known for openly calling for women's right to drive and an end to the restrictive male guardianship system. She was charged with harming national security and promoting a foreign agenda, and sentenced to five years in prison by the newly formed Specialized Criminal Court, a court specializing in handling terrorism cases. Her sudden imprisonment, and subsequent release on February 10 of this year, is an indication of the kingdom's so-called reforms. Although Saudi Arabia has undergone some hopeful changes in recent years, these changes are not as radical or reform-oriented as one would hope. Rather, they concern activities that are considered basic human rights: going to the hospital, getting a job, studying, appearing in court, or filing a police report without male permission.
The most radical of changes is becoming the last country to extend women the right to drive, which indicates where Saudi Arabia currently stands in equality measures. There is no escaping the fact that this very conservative and religious society is undergoing change, and that this change is reflected in the growing number of young people facing a new economic future. Just as the driving ban was lifted, Saudi Arabia was going through an economic downturn caused by low oil prices, which put a strain on the national budget. Lifting the driving ban was a way to partially improve the country's poor economic situation and reduce the government's social benefits. The drop in oil prices also prompted authorities to cut government jobs that many Saudis relied on, and it is believed that lifting the driving ban could encourage more citizens, including women, to work in the private sector.
Altogether, the lifting of the ban can be seen as an economically strategic move, enabling more women to join the labour market and strengthen the country's economy in line with the kingdom's 'Vision 2030'. Vision 2030 aims to increase the proportion of women in the workforce by up to 30% by 2030. In addition, it can be viewed as an opportunity for the new crown prince Mohammed Bin Salman to gain recognition for changing the image of Saudi Arabia.
By using the issue of women's rights as a public stunt to impress young Saudis as well as the kingdom's foreign allies, the crown prince asserted his new style of politics in which he portrays himself as an agent of change and a reform-oriented leader. One may argue that the reason behind the drastic arrest of the rights activists right before the ban was lifted was not simply a foul play by the saudi authorities but a necessary one, as it demonstrated the image of an absolute rule, one which Saudi Arabia aims to maintain at any cost.
Al-Hathloul's sentence was condemned by international human rights activists, with Amnesty International calling for it to be overturned due to a lack of evidence to support the charges. After almost three years of being detained, al-Hathloul, who was released this February, is however not unconditionally free. She is currently banned from traveling as well as having any contact with the media. The imprisonment of al-Hathloul and many other women's rights activists proves that despite the lifting of the ban on women driving and other women's rights reforms, the road to freedom for Saudi women is still long.
Today, as the world faces a global pandemic, life has drastically changed for many people. But the pandemic has had an especially great impact on women. In comparison to the United States and Europe, where women have been hit by the wave of unemployment, the downturn has been particularly damaging for women in Saudi Arabia since the pandemic hit just as their efforts to enter the workforce and gain economic independence were gaining momentum. According to the Saudi Bureau of Statistics, about 83% of Saudi women are unemployed. About 70% of this group are educated women who have graduated from high school or university. The question is not if, but how much Covid-19 has damaged the progress of women's rights reforms in Saudi Arabia, and whether they will be able to get back on the path to equality. A road that albeit long at least started moving in the right direction.
Despite the visible push against women's rights reforms in Saudi Arabia, women's rights groups must receive more international acknowledgement that will both strengthen and legitimize their efforts.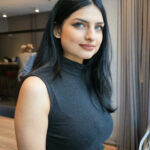 Writer for Utblick Magazine since 2020