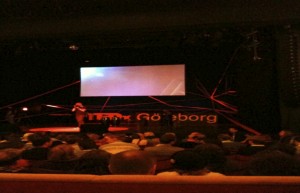 This year, autumn came to Sweden along with a boosting event. On the 10th October 2012, TED x Göteborg held a grand conference that invited participants to think "beyond borders". The audience included distinguished students and professionals of various ages and backgrounds.
The event kicked off in the morning with a warm welcome from the chairmen. The conference consisted of four subsequent sessions featuring prominent speakers, all of whom envisioned how to transcend the borders of our minds and make vision reality. In order to depict a clear picture of the day, I will mention some of the speakers that I found inspiring.
"The locals loved it and although the stress of entering an area full of conflict with zero security was high, it was a very special project and one of the highlights of my career. I got to enter a place filled with anger and frustration and paint there"
Shai Dahan
The first session started with Shai Dahan, a devoted street artist who welcomed us into the world of creative public art. In his speech, Dahan emphasized his experience of connecting art and people in the midst of the conflict-driven area in and around Israel. Dahan reminded us of the power of touching people through painting on a wall that catches the spirit of conflict; a spirit that finds the hope in a land where sanguinity left long time ago. It appeared to me that this spirit may have been rediscovered on the streets through paintings like these. The session ended with a speech by the innovative Swedish musician Håkan Libdo, who presented us with a way to reach disabled and blind people through music and sports. Libdo demonstrated how a tennis racket produces sounds with movements of the human body and becomes a musical instrument which creates virtuous compositions.
"Through imaginary thinking and reshaping can we learn how to solve our problems."
Magnus Berlund
After the first session, we enjoyed the famous Swedish "fika" and had our traditional problem-solving methods tested by an unconventional nine-dots puzzle. The marketing strategist Magnus Berglund,who believes that "imagination is more important than knowledge", suggested that we redesign the paper in order to connect the dots in a faster and more efficient way. Berglund pointed out that the link between a classical puzzle game and our real-life problems demands a reshaping that can actually solve each puzzle.
"I believe that if we love our IPhone now, in five years, it could love us back."
Aric Dromi
While the idea of solving our problems in imaginary and innovative ways had already sparked a motivating emotion in the listeners, the next speaker, Aric Dromi, a digital philosopher, directed our attention to the concept of emotional wisdom. Are human beings due to their emotional ability superior to the digital world? Or perhaps technology has emotions, too. Dromi argued that technology may not possess the same level of emotional wisdom as humans do, but considering that many of us develop emotional connections with our phone, car and computer at a subconscious level, there is a possibility that we can import our emotional wisdom to technology with time. Dromi suggested that our emotional self establishes a love relationship with our surroundings via hidden transcripts in our brain. Following, he argued that we may not be able to teach technology to think, understand and feel like us, but through circumvent processes that develop an emotional equality between humans and technology, we can actually accept technology in a way that makes our life easier.
"What will happen when the agricultural system collapses and we are unable to find food in the supermarkets?"
Klara Hansson
While technology is still a rather new phenomenon, our emotional relationship with nature goes back in centuries. The next speaker Klara Hansson, a public gardener and permaculturist, impelled the audience to remember this emotional connection as rooted in human nature. She shared her vision of the city and requested that we imagine an "edible city", in which everyone can eat what already exist in their backyards or in city gardens, and where the knowledge of how to grow food is not disregarded or left to agricultural areas alone. The two maxims regarding our world – the ever-increasing food demand of humans and the fact that over 50% of the world population today live in cities -, require us to use the global space in sustainable and ecologically-friendly ways. In that sense, Hansson inspired all of us to (re)design our cities.
This was followed by a musical performance from Annushka, who sang us a folkloric Russian song combining satirical, deep, and emotional lyrics with energizing beats of Latino music. The session finished with multicultural tones which harmonically echoed in our ears as we left the conference room for lunch break.
"I cannot even get along with my neighbor and I know that many of us cannot get along with people close to us. We are all uniquely different and there is nothing wrong with that. However, we should create an environment where we can choose how and by whom we would like to be governed, and thus interrogate the borders in contemporary politics between nation-states and the international system"
Susanne Tarkowski Tempelof
The afternoon session began with a speech which questioned our deliberation of world politics. The political entrepreneur Susanne Tarkowski Tempelof, who has sold a strategic communications company that carried out campaigns for U.S. military in Egypt and Libya during the Arab Spring, encouraged the audience to question what was wrong with humanity. Tempelof argued that the fundamental problem with humanity may be that we simply cannot get along with each other, but pointed out that perhaps we do not have to either. In this regard, she reflected on the issue of weak infra-state structure that came with the confusion between territory and governance in the age of globalization that we live in today. By applying the notion of weak infra-state structure, Tempelof highlighted the inability of the state system for letting people choose freely who they wish to be governed by. If people feel restricted in this choice, they might overthrow their oppressive governments through revolutions, considering that the sources of governments' power lay down people`s consent. As such, Tempelof promoted the idea of reflecting on the dysfunctions of the world system.
"Sometimes, just by squeezing the herrings you can actually change the foreign policy of a country."
Magnus Wahlberg
Cautiousness towards state politics is one way to analyze the world system. The following speaker, Magnus Wahlberg, biologist, Scandinavian desk-chief of the science humor magazine Annals, and 'Ig Nobel Prize' winner of improbable research, presented a case in which a misperception of the Swedish state emergency alert almost led to a diplomatic crisis. He presented outcomes of his research on the sea ground and explained how a sound which had been identified as an indicator of a submarine alert was actually the result of independent gas sources generated by herrings. He informed us that after they found the sources of the otherwise typical sound, long-lasting alerts were diminished. Consequently, Wahlberg encouraged us to be careful when listening to politicians.
This was followed by the performance of Radioactive Orchestra, where we listened to the enigmatic and, to many of us, unknown sound of atoms. Could atoms make sounds and if so, what would they sound like? Through diverting sounds of radioactive isotopes to a piano, the radioactive orchestra gave the isotopes their own sound and gyrated music and nuclear science together. This opened a window for better understanding the world that exists beyond our senses.
"If life challenges you with unexpected and unfavorable health problems, and if you need an organ, getting a transplant will suddenly be your only dream. Thinking that you would like to receive an organ in such case, why do you not donate your organ today?"
Martha Ehlin
Whether the world is available to our senses or not, staying cautious of the utilitarian matters within it is, in fact, essential. Even more important, though, is to value our own and other people's lives. From this context, the next speaker, the five times winner of World Transplant Games, Martha Ehlin, who is diagnosed with cancer, touched the hearts, senses and minds of the audience. The young woman shared her experience of losing five vital organs due to cancer and anxiously waiting for an organ transplant. Ehlin explained how she survived this disease and emphasized that an organ donor gave her a second chance to live. She reminded us that donating our organs might actually save other people`s lives one day and it might even help us get back to the essence of our own lives.  Martha motivated us to challenge our conventional worries and be spirited enough to donate our organs.
The last session of the conference began with a speech by memory master Idriz Zogaj, who has positioned Sweden on 5th place in the World Memory Championship. Zogaj talked about how our brain works and how we can improve our memory. According to him, the stronger the connection we make with objects and information, the larger and faster are we able to memorize them. He emphasized that while our brain works beyond our expectation, we need to learn and exercise the technique for remembering the information we come across.
"I believe almost everyone could get a super memory with practice of a simple technique."
Idriz Zogaj
The technique is simply based on letting our brain have fun and focus on the knowledge. In other words, if we want to extend our knowledge and make it long-lasting, we need to form a stronger connection with new information and visualize it in our brain. He mentioned that many students do not know how to efficiently learn knowledge due to their lack of trust in their brains. However, Zogaj asserted that using this simple technique would allow them to obtain the knowledge in a competent way and with a good sense of timing. He stressed that if we do not trust our brain, we have to work all the time, yet life should not be all about working. Therefore, trusting our brains is important for all.
"If you hit the problem with your daydream, there is a high possibility that somebody will take your vision and make it happen."
James Prescott
Thereafter, professional daydreamer James Prescott took the stage and shared his view on the connection between daydreaming and vision. He talked about the process of turning his daydream to reality. Prescott familiarized us with an American historical character, Wind Wagon Thomas, who had a vision of creating a wind wagon, which enabled emigrants to cross the vast plains of America in shorter time. Due to deficiencies in the design of his wind wagon, Thomas` experience resulted in failure. The story, however, remained alive in the daydreams of Prescott, who narrated how he started to build his own wind wagon by sharing this dream with his friends – his wind wagon has later successfully crossed the Nevada dessert. Prescott invited us to have a vision and share it with others, in order to make daydreams reality.
At the end of the conference, a festive mood filled the hall by the dance show of Old-school Flavour and our minds were occupied with innovative and inspiring ideas. The conference was truly memorable as it challenged everyone to push the boundaries of our consciousness. If you are looking for a day with diverse and original speeches by young speakers and enjoy taking part in the TED community, I am thrilled to share with you that the next conference, TEDx Göteborg Youth, will be held in November 2012. I will certainly be looking forward to it!
Text: Ayse Alkilic 
Warning: Undefined array key "img" in /customers/f/c/6/utblick.org/httpd.www/wp-content/plugins/molongui-authorship/views/author-box/parts/html-avatar.php on line 4
Warning: Undefined array key "type" in /customers/f/c/6/utblick.org/httpd.www/wp-content/plugins/molongui-authorship/views/author-box/parts/html-name.php on line 17 Warning: Undefined array key "type" in /customers/f/c/6/utblick.org/httpd.www/wp-content/plugins/molongui-authorship/views/author-box/parts/html-name.php on line 19 Warning: Undefined array key "type" in /customers/f/c/6/utblick.org/httpd.www/wp-content/plugins/molongui-authorship/views/author-box/parts/html-name.php on line 21 Warning: Undefined array key "archive" in /customers/f/c/6/utblick.org/httpd.www/wp-content/plugins/molongui-authorship/views/author-box/parts/html-name.php on line 37 Warning: Undefined array key "name" in /customers/f/c/6/utblick.org/httpd.www/wp-content/plugins/molongui-authorship/views/author-box/parts/html-name.php on line 41
Warning: Undefined array key "bio" in /customers/f/c/6/utblick.org/httpd.www/wp-content/plugins/molongui-authorship/views/author-box/parts/html-bio.php on line 8