If you want to go to a place where you can do everything, explore new options and enjoy maximally culture, art, beautiful nature, astonishing architecture and entertaining night life then Vienna is your city. It offers everything from relaxing walks in the parks and castles to opportunities to attend exhibitions in galleries, museums, opera, ballet, classical concerts and so much more.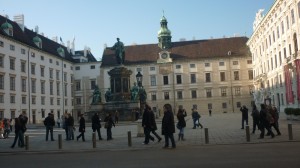 First, let's start with my first impressions from Vienna, when I arrived there during the Autumn. The weather was still warm, and the leaves on the trees were colorful, which created a very special and romantic atmosphere. The city itself is very comfortably organized, clean and its inhabitants are very friendly. If you get lost, don't hesitate to ask about your destination, and you can rest assured that they will be more than happy to help you.
I shall start this guiding tour with the first attraction that I attended: St. Stephen's Cathedral (Stephansdom), – one of the most significant buildings of the Middle European high and late Gothic period. It's built in 1147 AD while its most recognizable characteristic, the diamond-patterned tile roof, was added in 1952. It has become a symbol of Vienna's freedom after World War Two. What I found most existing was to climb the 343 steps to the tower-keeper's room and enjoy the magnificent view. If you feel tired after your climbing, you should take a break and definitely visit one of the cafeterias at Graben street. The origin of this street dates back to the old Romans and it is surrounded by popular alleys, streets and places, representing the typical flair, elegant tradition and gourmet pleasures: Stephansplatz, Kohlmarkt, Naglergasse, Tuchlauben and Petersplatz.
Next stop: The Hofburg imperial palace, which is an impressive building at the Heldenplatz with long history. It is located at Vienna's splendor boulevard, the Ringstrasse, and is reachable from there through the Burgtor gate.I'm recommending you to visit Sissi Museum and exhibition rooms of the Imperial Apartments. For those who are not familiar with Sissi, she was an Austro-Hungarian Empress, Elisabeth of Austria, the wife of Franz Joseph I, and popularly more well-known as Sissi. In her museum you should see her private artifacts, cloths and some of her own poems and thoughts.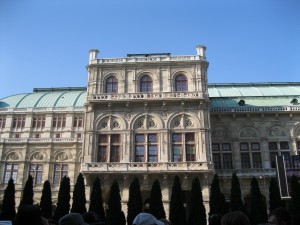 If you want to enjoy an impressive exhibition, you should definitely visit the most popular galleria in Austria called Albertina. It contains one of the largest graphic art collections in the world with 44000 drawings and 1 million old master prints (Leonardo da Vinci, Michalangelo, Raffael, Rubens, Rembrandt, Dürer, Gustav Klimt). Albertina is located in the centre of the city, just 100 meters from the opera building, so after an hour at the gallery your next destination should be Vienna State Opera House. It's a very impressive building and also a worldwide known opera house. With 1709 seats and 567 standing rooms there is plenty of space for the audience to watch daily opera performances, ballet shows, sometimes concerts and one time a year an operetta – that is the Fledermaus – as traditional New Year's Eve performance.
After such a long cultural walk around the beautiful Austrian capital, most of you probably will need little break. I advice you to take a little breath at Burggarten –Vienna Garden, a famous place for relaxation. In the past was used as a private garden for the emperor, with an area of approximately 38.000 m². It is located directly by the Ringstrasse, beside the Hofburg and Albertina.
If you are a person who looks out for an adrenaline rush and entertainment, then your next attraction should be Vienna's Prater with Giant Ferris Wheel or the most popular amusement park in Austria. Personally, I enjoyed this place during the night and it includes one of the biggest disco nightclubs in Central Europe. With several floors, this place should satisfied every musical taste, and the atmosphere is really very specific and makes you feel that the party will never end.
The last stop in our Vienna adventure is my favorite place. It is probably the most visited and famous tourist attraction in Vienna, as well as one of the most important cultural monuments in Austria: Schönbrunn Palace. The complex contains an imperial palace, a park with fountains, statues and a Zoo. Among Europe's grandiose palaces, only Schönbrunn rivals Versailles, with over 1,400 rooms in the Baroque and Rococo styles. In room after luxurious room, the palace heralds the story of the Habsburg's powerful reign. Here you could easily bring back time in your imagination and see yourself as being part of the royal world, where important events took place and decisions concerning the future of Europe have been taken.
Text: Ivelin Mindev
Warning: Undefined array key "img" in /customers/f/c/6/utblick.org/httpd.www/wp-content/plugins/molongui-authorship/views/author-box/parts/html-avatar.php on line 4
Warning: Undefined array key "type" in /customers/f/c/6/utblick.org/httpd.www/wp-content/plugins/molongui-authorship/views/author-box/parts/html-name.php on line 17 Warning: Undefined array key "type" in /customers/f/c/6/utblick.org/httpd.www/wp-content/plugins/molongui-authorship/views/author-box/parts/html-name.php on line 19 Warning: Undefined array key "type" in /customers/f/c/6/utblick.org/httpd.www/wp-content/plugins/molongui-authorship/views/author-box/parts/html-name.php on line 21 Warning: Undefined array key "archive" in /customers/f/c/6/utblick.org/httpd.www/wp-content/plugins/molongui-authorship/views/author-box/parts/html-name.php on line 37 Warning: Undefined array key "name" in /customers/f/c/6/utblick.org/httpd.www/wp-content/plugins/molongui-authorship/views/author-box/parts/html-name.php on line 41
Warning: Undefined array key "bio" in /customers/f/c/6/utblick.org/httpd.www/wp-content/plugins/molongui-authorship/views/author-box/parts/html-bio.php on line 8