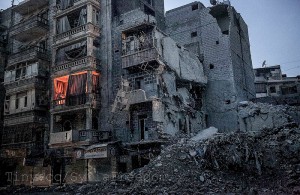 In the last couple of days, something peculiar has taken place. I'm sure you've noticed it too. From being Yet Another Desert Land in the eyes of many Westerners, Syria seems to have become a country of prime international concern. In social media, at street corners, among friends of mine, who up until this point have not shown any particular interest in Syrian affairs, arguments for and against a Western intervention in the bloody civil war are running wild.
The UN is in a deadlock on this decision thanks to Russia's predictable veto against any involvement. Europe, the old region so deeply wounded in its inferiority to that Great Atlantic Power, sighs by the thought alone of yet another US-driven attack on foreign ground. Meanwhile, in his attempt to step ever so lightly, giving handouts to the Congress and trying to please everyone, President Obama missed a beat as he grounded his argument for an intervention in Bashar al-Assad's perceived use of "weapons of mass destruction". He probably shouldn't have said that. Really, you can't blame Westerners for feeling tense about this question. The last time we heard of chemical weapons was when the previous US Commander in Chief, Mr. Bush, with a few easy tricks and treats turned a private fantasy of finishing the battle his father first set out against Iraq's late dictator, the notorious Saddam, into a deadly war that destroyed the US economy – not to mention a good part of Iraq –, and made Westerners terrified of anything south of Italy (the repercussions of which will prevail long after we forget who told us that Muslims were a dangerous species in the first place). If anything remotely positive can be said about that era, it is perhaps that at least some politicians seem to have matured from the hangovers of hasty warfare. Evidence should precede action and not the reverse, as the Leader of the Opposition, Ed Miliband from Labour Party, reminded his colleagues in the British Parliament on Friday, to Prime Minister Cameron's imminent disappointment.
The lack of evidence that so concerns everyone at the moment does not evolve around whether or not chemical weapons have in fact been used in the Syrian war, but rather around who used them. While the Syrian regime on the one side and Syrian rebel groups – a diverse branch, no doubt –, backed by the US, on the other side participate in a game of whodunit through international media, news of the latest attacks on Syrian children are streaming in by the hour. As of June this year, according to the UN, more than 100.000 people have been killed in the war, since the first protests against Assad's regime erupted in March 2011. Amal Hannano described in Foreign Policy last year (December 11th 2012) how Syria has become a land of "topless minarets and headless little girls". As commentators in last night's debate show Deadline on National Danish Television stressed, the Western world has chosen its side in the struggle a long time ago. Even to subscribers of Fox News, the fact that Syrian President is in war with his people really should be old hat by now. It is curious that the issue of chemical weapons so dominate the debate about a war, when its massive violations of Human Rights are known to everyone, and when starvation in Syria is so alarming that people are forced to eat their old skinny pets, if a bomb doesn't hit them before they even get to that.
As a former student in Syria, I am pleased to witness a growing international attention towards the daily horrors committed against Syrian citizens in what was not long ago the friendliest place I have ever lived in. But I am concerned that all this talk of Red Lines and Principles of Law with difficult abbreviations such as the 'R2P' – people who are not students of International Relations, hang in there –, shifts the focus from what this is really about: A humanitarian crisis that needs humanitarian action.
When considering the public reaction to recent events in Syria in light of the previous international interventions we have witnessed, it seems clear that people are often in need of hard sciences to make up their mind. It is not enough for us to know that people are dying in masses. As Susan Sontag noted some time ago, citizens of the modern age have become experts in regarding other people's pain. But when expert panels, often represented by white males in shiny TV-studios, manage to create some order in the nonsense, distinguish right from wrong and draw lines, then we take action. Paradoxically, we are obsessed with principles to an almost arbitrary degree. Human suffering becomes real only through our categorization of it.
Of course an international intervention will seriously mess up the region, once again. Among the Syrian opposition, the US will face some exciting new allies in the form of Al-Qaeda supporters, along with many many other different groups – atheist, religious, upper-class, working class –, representing a whole forest of ideas on how to rule a country. After all, civil uprising is not like a cup of coffee from Starbucks, the same depressive taste anywhere you buy it. Uprisings decentralize and move around, as do people. Region-wise, Iran and Hizbollah will not stand idle in the sight of a Western attack on 'their' ground, wherefore Lebanon will become even more of a regional clusterfuck than it already is. This will make their Southern neighbor, Israel, go nuts, so any hard-tried hopes of a Peace Agreement with the Palestinians can be put on a hold right there. And I haven't even mentioned Turkey yet. The excuse of chemical weapons will not make this regional scenario any less explosive, and the US is probably well aware of that.
While we busy ourselves discussing the pros and cons of a military intervention that no one is particularly excited about in the first place, we could be using our resources instead to consider how a more humanitarian intervention could be staged. Why don't we use the intellectual strength that we have accumulated in the last decade since the intervention of Iraq to act a little differently this time? Why don't we ask some of the people – researchers, Syrians abroad, humanitarian organizations – who know so much more about this than any Western politician or technocrat possibly could, what alternatives there may be to a hit-and-run intervention?
The little Syrian girl doesn't care who dropped the chemical bomb, when it was dropped, or by whom. By the time we get around to ask her, she will probably be gone.
Text: Anna Simone Reumert
Photos: Freedom House @Flikr
Warning: Undefined array key "img" in /customers/f/c/6/utblick.org/httpd.www/wp-content/plugins/molongui-authorship/views/author-box/parts/html-avatar.php on line 4
Warning: Undefined array key "type" in /customers/f/c/6/utblick.org/httpd.www/wp-content/plugins/molongui-authorship/views/author-box/parts/html-name.php on line 17 Warning: Undefined array key "type" in /customers/f/c/6/utblick.org/httpd.www/wp-content/plugins/molongui-authorship/views/author-box/parts/html-name.php on line 19 Warning: Undefined array key "type" in /customers/f/c/6/utblick.org/httpd.www/wp-content/plugins/molongui-authorship/views/author-box/parts/html-name.php on line 21 Warning: Undefined array key "archive" in /customers/f/c/6/utblick.org/httpd.www/wp-content/plugins/molongui-authorship/views/author-box/parts/html-name.php on line 37 Warning: Undefined array key "name" in /customers/f/c/6/utblick.org/httpd.www/wp-content/plugins/molongui-authorship/views/author-box/parts/html-name.php on line 41
Warning: Undefined array key "bio" in /customers/f/c/6/utblick.org/httpd.www/wp-content/plugins/molongui-authorship/views/author-box/parts/html-bio.php on line 8