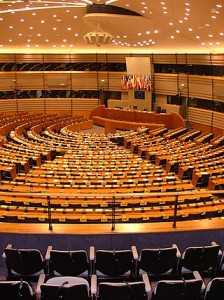 Surprise! The extremists have gained territory in most of the European countries.
Despite the fact we are still in post-election heat and there are no comprehensive analyzes on the results, it feels like there is a common perception that the real winners of this European election are the extremists.
"I'm deeply worried", replied my friend Yacob while I messaged him about the results. Apparently for some people this is a shocking result, but for some it was just expected.
France PM Manuel Valls called it "an earthquake" as the Front National of Marine Le Pen managed to become top favorite of the French voters with 25.41 %. Following in France's steps, most far-rights parties gained territory in almost every European country. In a ballerina turn the Swedish Democrats went from 0% to the 9.9 % of voters' choice in these elections, while the Danish People's party (DFP) went as high as 27%, doubling their seats in the European Parliament from two to four. In Hungary, Jobbik, a party which claims among other things the registration for safety reasons (!) of the Jewish population in the country, has 3 seats and even in Germany the Neo-Nazi National Democratic Party won a seat. The famous oratorical abilities of Nigel Farage have served him well, raising the UK Independence Party (UKIP) up to 27.5% of votes. Other countries could be mentioned as well, such as Greece where the Golden Dawn, the party whose leaders are in and out of jail accused for involvement in criminal activities has won at least 3 seats in the European Parliament.
But not only the far-rights have triumphed in these elections, the far–left had their moments of glory as well. The radical-left Syriza turned out to be the leading force in a Greece exhausted from the economic crises. Not so brilliant, but not a bad turnout either for the Italian party MoVimento Cinque Stelle (M5S) ( which despite disputes most consider to be left) lead by comedian Beppe Grillo gained 21.1% of the voters choice. The same goes for the group sprang from the indignados in Spain, Podemo ("we can") which won 7.9%, an astonishing result considering that they started their political activity a few months prior to the elections.
The results were interesting because just as Podemos, some other parties, fresh and new in the political atmosphere of their countries, have transferred themselves from the periphery to being the epicenter of politics.
Of course all these parties should be considered case by case and are in no strict way related politically to each other. Nevertheless, they all have something in common: they all are ANTI something.
Overall the European Parliament, the only elected institution of the EU, will have a hundred MEP whom are anti-something. The composition of the anti-something group of parties is made out of the anti-immigrants, anti-EU, anti-Jew, anti-Euro, anti-enlargement, anti-establishment, anti-free movement, anti-austerity measures and probably anti-everything that makes them feel more guilty. Thankfully some of this anti-something parties, are so anti-everything that they will be anti-alliance with similar parties from other countries. This may relieve our fears of possible large extreme-right coalitions able to open the Pandora's Box.
Don't get me wrong, personally I believe that some anti's may not be so bad, but is this really the solution to the problems member-state citizens are facing nowadays? I don't think so.
Nevertheless all this anti-something MEPs will have their chance to express (while receiving their fat salaries from the same EU institutions that some of them dislike)the exasperation on why things go wrong in their own country. And we all know what is the solution when something goes wrong: blame something/body else! It is easier that way. These anti-something parties go as far as messaging to the egos of human being. It is by the same philosophy that most of these parties have gained votes appealing to people's sentiments and rancor due to their economic, social, or even personal crisis.
Author: Ermelinda Kanushi
Photo: Alina Zienowitz
Warning: Undefined array key "img" in /customers/f/c/6/utblick.org/httpd.www/wp-content/plugins/molongui-authorship/views/author-box/parts/html-avatar.php on line 4
Warning: Undefined array key "type" in /customers/f/c/6/utblick.org/httpd.www/wp-content/plugins/molongui-authorship/views/author-box/parts/html-name.php on line 17 Warning: Undefined array key "type" in /customers/f/c/6/utblick.org/httpd.www/wp-content/plugins/molongui-authorship/views/author-box/parts/html-name.php on line 19 Warning: Undefined array key "type" in /customers/f/c/6/utblick.org/httpd.www/wp-content/plugins/molongui-authorship/views/author-box/parts/html-name.php on line 21 Warning: Undefined array key "archive" in /customers/f/c/6/utblick.org/httpd.www/wp-content/plugins/molongui-authorship/views/author-box/parts/html-name.php on line 37 Warning: Undefined array key "name" in /customers/f/c/6/utblick.org/httpd.www/wp-content/plugins/molongui-authorship/views/author-box/parts/html-name.php on line 41
Warning: Undefined array key "bio" in /customers/f/c/6/utblick.org/httpd.www/wp-content/plugins/molongui-authorship/views/author-box/parts/html-bio.php on line 8