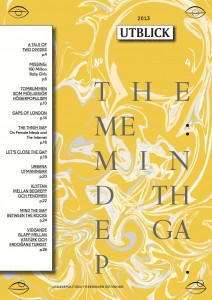 The last issue of  2013 covers different types of gaps: gaps of power and within the political spectrum, gaps between sexes and within cities, as well as the literally palpable thigh gap. You could also read about how Erdogan's Turkey widens the gap to Atatürk's ideals, or about how widening gaps within nations relate to narrowing gaps between nations. Even more topics on the theme are waiting to be read, don't miss it!
As always, you can find the magazine at coffee shops, libraries and university institutions all over Göteborg, or read it online here*.
With this issue, Jenni S. Lindberg and Jonas Eriksson resign from our posts as Editors-in-Chief, and welcome Utblick's new Editors Aiysha Varraich and Josef Svantesson. Thanks for us, and good luck!
*The web version includes some minor corrections.