The clashes between armed police forces and non-violent protestors on Plaça de Catalunya in Barcelona made the 27th of May a dark day in modern Spanish history. The Spaniard Alvaro Trinidad Muñoz gives his point of view on the 15-M movement's protests in the Catalonian capital.
A group of Spaniards sit in the middle of Plaça de Catalunya with a purpose. They are members of a movement called "15-M", as in 15 th of May. The year was 2011 and the scattered clouds had a hard time to provide shade for the protestors while they set up camp. Alvaro Trinidad Muñoz sat among the group of young protestors on the square.
– I just wanted to tell the ruling politicians that I thought they were in the wrong and show that I was not satisfied, Alvaro says.
Now almost three years later he is still upset about the last years' developments and today's situation. Even though he express himself in a placid way, it's easy to see his disappointment.
– It is very complicated to change the whole system in Europe. But Barcelona is still today full of empty apartments and who has the money to live there now? No one. It is too expensive, Alvaro says.
When asked about what happened in Plaça de Catalunya the 27th of May, he interrupts:
– They said we were criminals. No one there showed any signs of violence. The only violence I saw was from the police.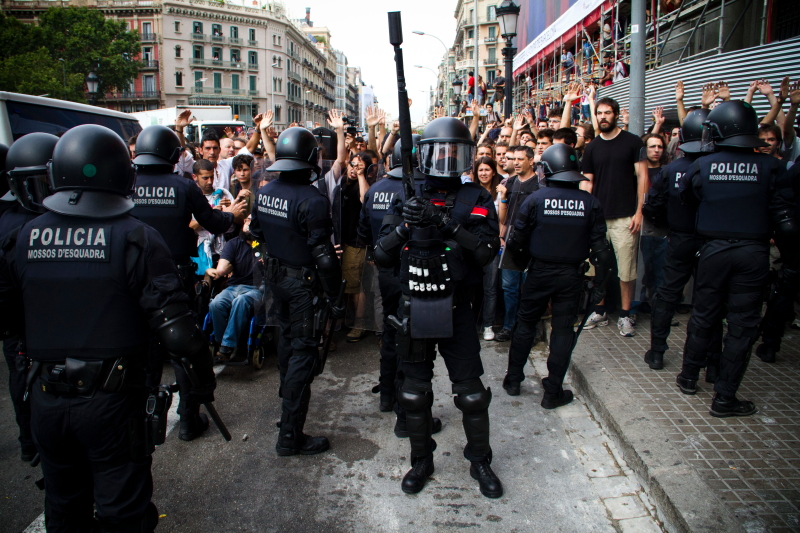 The 15-M movement was created because of a growing dissatisfaction within Spain – as in many other European countries. Unemployed citizens who had little to lose wanted to go against, and eventually topple, the capitalistic forces inside the doors of the Spanish parliament. According to 15-M, bank bailouts and economic restrictions from the European Union are supposed to be second to equality, solidarity and freedom of culture.
It would be impossible to mention the Spanish protests in 2011 without a word about Stéphane Hessel's bestselling pamphlet "Time for outrage!" (Original French title: "Indignez-vous"). The thirty-five pages written by this ninety-three year old man was a starting point and a source of inspiration for many protestors. In many countries the deep crisis was a part of everyday life in 2011. Therefore many did what they thought was right.
– I wanted to go against the ongoing politics in general. Something was wrong. Our Friday started with 300 persons mid-day. By the evening the number of demonstrators had turned into something like 30.000, Alvaro continues.
The number given by Alvaro is high. Maybe too high. Other governmental sources say 12.000. But still it is his personal estimation. Enough said; many turned up.
What tendencies are to be seen in Spain's and Catalonia's future? The president of the Generalitat of Catalonia, Arthur Más' popularity is falling; Prime Minister Mariano Rajoy's new anti-demonstration laws are seen by some as not only a big step away from democracy and values of the European Union – but as a it is a giant leap in the wrong direction.
– Among the richer in Catalonia, Arthur Más still have support, but I think among us much younger he is far from an alternative, Alvaro states.
Even if protests took place in several cities in Spain with the nave in Puerta del Sol in Madrid, the results are still to be presented. To blame the Spanish government solemnly for the economic crisis would be unjust. The situation in Spain was similar to the ones in Portugal, Greece and Iceland at the time; Europe was in trouble. And still is today. But why the violence?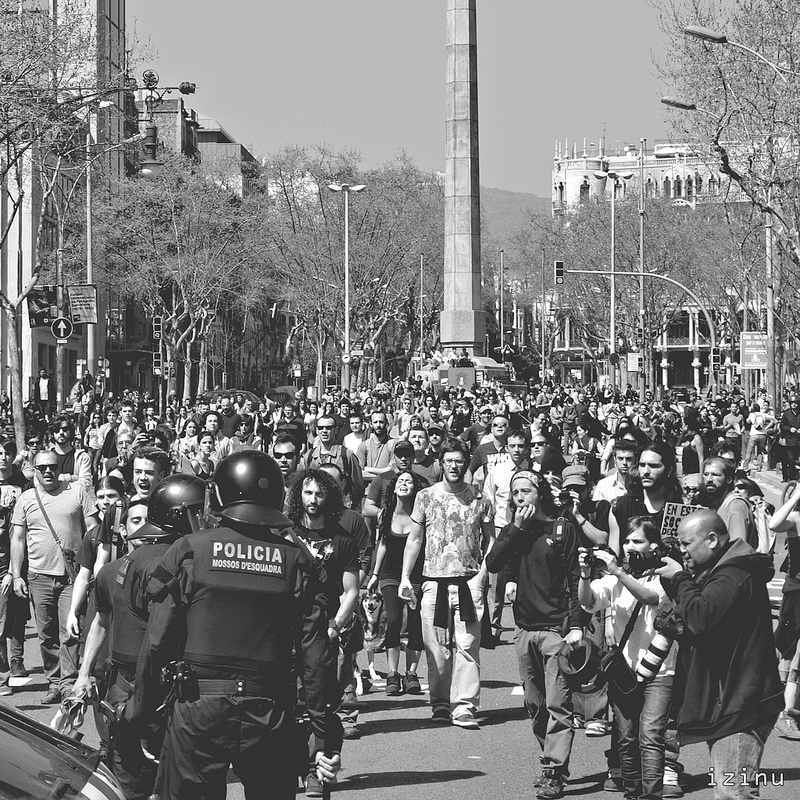 With democracy as the people's vehicle traveling on the bumpy road of economy, the journey will be long. Long and tardy. Democracy is neither natural nor unconditional. Not even in the fifth largest country in Europe. A country, its government and its people have to deserve democracy. Only some pages back in the history books one will find the dictator Francisco Franco who ruled Spain until his death 1975. A reality no one wants to experience once more.
The world and Europe needs to be alert, if further steps away from democratic values are made, the need of external intervention in Spain grows larger. And perhaps Alvaro was right when he said:
– Maybe I had an utopian picture of how the world looks outside Spain. That the crisis is much worse here.
Maybe Alvaro is wrong and more countries – within and outside the EU – are sitting on the same side of the political and economic seesaw as Spain and Señor Rajoy. Which way will it tilt?
Text : Mikael Boberg
Photo: Mikael Boberg/Fotomovimiento/Izinu

mikael.boberg [at] utblick.org
Warning: Undefined array key "img" in /customers/f/c/6/utblick.org/httpd.www/wp-content/plugins/molongui-authorship/views/author-box/parts/html-avatar.php on line 4
Warning: Undefined array key "type" in /customers/f/c/6/utblick.org/httpd.www/wp-content/plugins/molongui-authorship/views/author-box/parts/html-name.php on line 17 Warning: Undefined array key "type" in /customers/f/c/6/utblick.org/httpd.www/wp-content/plugins/molongui-authorship/views/author-box/parts/html-name.php on line 19 Warning: Undefined array key "type" in /customers/f/c/6/utblick.org/httpd.www/wp-content/plugins/molongui-authorship/views/author-box/parts/html-name.php on line 21 Warning: Undefined array key "archive" in /customers/f/c/6/utblick.org/httpd.www/wp-content/plugins/molongui-authorship/views/author-box/parts/html-name.php on line 37 Warning: Undefined array key "name" in /customers/f/c/6/utblick.org/httpd.www/wp-content/plugins/molongui-authorship/views/author-box/parts/html-name.php on line 41
Warning: Undefined array key "bio" in /customers/f/c/6/utblick.org/httpd.www/wp-content/plugins/molongui-authorship/views/author-box/parts/html-bio.php on line 8